Monday, December 31, 2007
Random Tuesday - Happy Effing New Year!..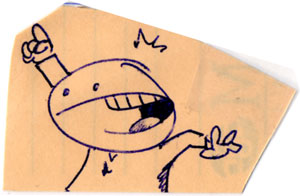 Indeed, we (and by 'we,' I totally mean 'I' as in the 'Royal We' because hey, always look out for numero uno) made it through the Christmas holiday with no occurrences of bankruptcy, homicide, pre-term labor, mass flatulence or any sort of visit by first responders of any kind. I shall perhaps reveal as many facts about our holiday as I feel comfortable with right about now...Or now...
Ok, how about now...
United Airlines Can Suck Large Donkey Nutsack...No, Really, They Can...
So we had a small handful of house guests during the last week and all of them flew in on United Airlines. My mother-in-law made it in fine (she was flying into Denver) but, as per usual, my sister-in-law and her husband Al got the shaft. The weather was cold/snowy/windy on Friday the 21st and, as such, flights were having trouble reaching Colorado Springs due to delays in other larger and presumably more important cities. Shannon and Al ended up sitting at DIA for a long stretch of time waiting for what turned out to be the only flight which landed at our airport all night. Al has a big problem with being cold and with the temperature an unseasonably chilly 10° with a wind chill of like...Negative a billion...Suffice to say he was less than pleased. Anyhow, we'll cover that more later since THIS blurb is about what a pack of dickheads United collectively is. Anyhow, the day that Shannon and Al flew OUT of town just happened to be Christmas day. When we got to the Springs Airport, they were informed that the flight that was to ferry them up to Denver was "delayed." Delayed to the point that, by the time it got to Denver, their original flight home to Las Vegas would have already departed. As such, we piled into the wife's VUE and I set to the task of driving Shannon and Al up to Denver in an attempt to catch the connector which had suddenly become NOT so much a connector but whatever. Anyhow, long story short, the weather was shitty and the other drivers were panicky retards (collectively) and it took us two hours to get there but, hey, Shannon and Al made it through security in time to board their plane...Which sat on the runway for FOUR FUCKING HOURS waiting to be de-iced. So yeah, as it turned out, United pretty much shut down all of their flights out of "smaller" airports (like Colorado Springs) and even cancelled several flights in major airports. The reason? It was Christmas and United decided to "give some of their people time off" at the expense of large numbers of their customers. So yeah, Fuck United. They are dead to me...
By the way, Shannon and Al DID eventually get home. At like...11:30pm...See, United had crammed all 5 of their flights onto one baggage carousel at McCarran in Veags. Anyhow, at this point it's just beating a dead horse. United licks balls.
So Yeah, Al Hates The Cold...
Welcome to Colorado Springs, home of 250 days of sunshine! Indeed, that's usually the case as it pertains to the weather in town here. We are, though, in an unseasonably cold weather cycle and, as I mentioned before, when Shannon and Al got to town, it was positively miserable - Bitter cold and snow with fierce winds. Lucky for Al, though, he had picked up quite the heavy hunting coat and gloves and things during a recent trip to see his dad in Arkansas. A handy ensemble, to be sure, since it rarely left his person the whole time he was here. In addition, Al continued to utter small phrases like "brrrr" and "I'm never coming back here." Wuss.
The Eagle Has Landed...IN MY BELLY!..
And by "eagle," I mean Turducken of course. Now, if it weren't all illegal and shit I'd definitely cook up and eat the proud avian symbol of our great nation because, hey, meat is meat. Lucky for me that wacky ol' Benjamin Franklin didn't get his way so many years ago since the "Tur" part of "Turducken" is obviously Turkey. And lord knows that his second and third choices would've been duck and chicken. Anyhow, the eagle is our national bird and turkey ducks and chickens regularly make their way into my belly. This time, though, the trio made it in
at the same time
. I have to say, the Turducken was a taste treat, one which I'll definitely consider ordering again the next time I need to feed several people with wonderfully cajun bird conglomerations...
What'd You Get Yourself For Christmas?..
A couple of days ago, I went down to one of our local Saturn dealerships not so much to pick up a new vehicle, but to take a look at the new vehicle which my dad had just purchased. Or leased. Either way, dad had turned in his old VUE for a new VUE and, while he was finishing up the paperwork, I took it for a test drive. Now, I had planned to get a vehicle other than the small truck that I've had for 8 years before Max is born since he can't really ride in the front seat until he's older but I didn't plan on doing such things this soon. Maybe sometime in late February, but certainly not this last weekend. Sometimes, though, you just have to be ready for plans to change...See, because of some fine incentives and, of course, the fact that I'm eligible the GM Supplier price due to some job-related factors, I went ahead and leased me a 2008 Saturn VUE with a V6 engine and All-Wheel-Drive. It's "Sea Mist Green" and has several nice features like OnStar free for a year and 90 days of XM radio service(which I'm slowly falling in love with, mostly due to the "decades" category). I kept my little truck as opposed to trading it in since having it around to haul things seemed like the thing to do. Hell, it's paid off...So why not, right? Oh, by the way, I sent off my application for a personalized license plate today. If all goes well, I'll soon be the owner of one Colorado license tag which reads "I. R. SLO." Yeah, I thought it was funny too...I'll take pictures of everything soon...
No Awesomecasts In The Last Couple of Weeks. Anyone Notice?..
Things just haven't worked out for Collin and I to get synced up enough to record anything, let alone a podcast episode, over the course of the last two weeks. Indeed, on the top of the factor list was the whole "hosting Christmas dinner and having houseguests" thing. I'm hoping to get a good group together soon so we can chatter like crazy squirrels about whatever comes to mind...You kids stay tuned...
Hey, Happy New Year!..
So yeah, at the time I'm typing this up, I'm 20 short minutes away from 2008 in the mountain time zone. No big party action this year for the wife and I...We hung out with my parents for a while, watched the Avalanche lose to the Goddamned Coyotes in a shootout and played some euchre. we recently got home and I sampled some of the Pappy Van Winkle's 15 year old family reserve whiskey which I picked up today and now, hey, I'm typing an entry. Yeah, terrifyingly exciting, that's me...Hopefully you kids out there had a safe New Year's Eve...Also, here's to a great 2008. As always, thanks for stopping by...You kids have a great day off...
Labels: Baby max, holidays, I eat food, indignities, lame stories