Sunday, March 16, 2008
Begrudgingly Becoming A Daddy Blog...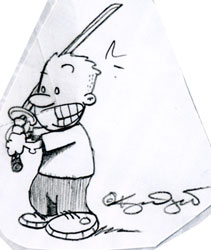 So as you may or may not have already astutely guessed, having a newborn around severely limits the amount of time that one can spend on self-gratifying pursuits such as podcasting and/or updating a stupid blog (like this one, if you were trying to think of an example). Indeed, even though my wife is able to take off until August to be with the little fella', he's taking up a big chunk of time for both of us. I had high hopes that my silly little blogsitething here would never turn into a vast, unupdated wasteland or (far worse, in my opinion) a "daddy blog." Sadly, it seems that both fates may befall my creative endeavors from here on out. After all, if I'm going to try to write about what's happening in my life, it would seem that I'd be restricted to writing most about the thing which is consuming most of my available time (that is if I can find time to write anything at all). Due to this, it seems that I have no choice. For a while at least, sonofcheese.com will either be dormant or a "daddy blog" with sporadic updates about how our little Maximus Thor is doing...
Anyhow, speaking of Max, how about some new pictures? Here's one to get things started:
This, kids, is what "tired" looks like. This was taken probably late in the first or early in the 2nd day of our hospital stay. I was beat down from lack of sleep and, seriously, I remember thinking that I was smiling when this picture was taken. I guess that was all the enthusiasm I could muster...
Anyhow, so yeah. What is going on in my life right now...Well, I still go to work Monday through Friday. I get real anxious to come home 'round quittin' time now, though. This is not to say that I wasn't excited to come home and see my wife before, but coming home to see your wife and kid, it's...Well...It's just different. I'm still playing hockey once a week and soon, once Max is about a month old, he can get bundled up and come watch me
suck
play. Not that he'll know what's going on, but at least I won't have to leave Max and his mom at home when I go...Aside from that, I'll be playing in the MSBL for the first time this year. MSBL stands for "Men's Senior Baseball League" and has me pretty excited. I mean, softball is fun, but playing real baseball...That's going to be a blast. Games are once a week and start at the end of April...It looks like I'll be floating between Catcher and First Base mostly on my new team (which finished dead last in every season so far). So yeah, that should be fun...
Outside of that, this is what has been keeping me from posting anything at all: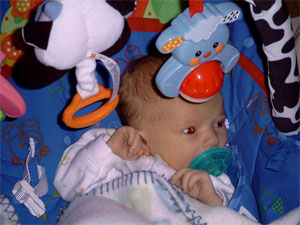 The boy has the Laser Eyes, just like his dad and has been melting household items (like our hearts) with his piercing gaze.
Wow, that was cheesy. Anyway...More pictures, yeah?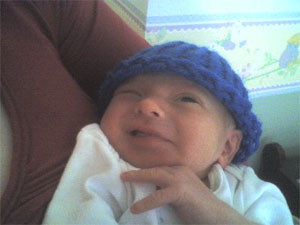 I took this picture with my cellphone. I believe it to be the best picture of Max that there ever could be. It's the one I plan to blow up and have framed, hanging right inside the door when Max has his first date some years down the line...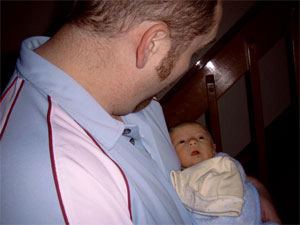 Finally, here's Baby Max giving his dad the hairy eyeball. Actually, he probably can't even see that far yet. Well, to be fair, he can't
focus
that far yet. He is starting to look around a lot more and he will stop and stare at certain things which seem to be within his (very limited) focal range. Overall, he's a good boy. I guess that it won't be the worst thing in the world, writing mostly about him for a while. Heck, if he keeps peeing on his mom while she's trying to change him, I'll have all manner of things to type about in the future. Anyhow, thanks for stopping by. You kids have a fine...um...Stretch of days now...
Labels: Baby max, indignities, lame stories, Phrickin' Photoblogs