Tuesday, December 18, 2007
Random Tuesday - Happy Freaking Holidays!..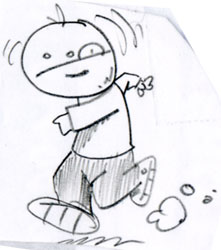 So hey, kids, how are you all anyway? Indeed, it's been a whole Goddamn long time since I posted anything of substance other than Awesomecasts on this stupid little blogsitething and, if you do a wee bit of research, you'll find that's just about how every one of my non-podcast posts have started for like...The last year. Or so. Yeah. I'm quite lame. No shock there. We've covered it. Let's move on.
Likely No Awesomecast This Week...
What with all manner of things to do leading up to the Christmas holiday, I'm just going to have to pass on recording a new episode this week. After all, as Collin said earlier today when we were talking about whether or not to record tonight, "it's your show," which is not entirely accurate but whatever. Anyway, I'm going to get around to making sense eventually, but for now, well. yeah. So no show this week, the towel is safe for another week at least and I can't verbally offend anyone by slighting their religion, sports team or other icon which they seem to hold dear. I'll get back to all that craps later on...
And Speaking of Christmas (Because We So Were)...
We're hosting Christmas this year at our house for the first time. We hosted Thanksgiving a couple of years ago and, if memory serves, it was a pretty packed house. We've got a lot of things to get done before people arrive (specifically, my mother-in-law is coming in from Florida and Shannon and Al are flying in from Las vegas) up to and including finishing decorations around the house, cleaning up various rooms and completing daunting tasks such as laundry which I've been inexplicably putting off for a week or two. I also have to go shopping specifically for the groceries to finish the holiday menu as well as for a handful of ancillary gifts. People are driving like complete retards around here and every store is packed to capacity (something that I'm sure is not exclusive to my part of the country) which is making these normally routine tasks seem arduous and draining. I can't even think of any way to make fun of it, it just plain sucks at times...
The Bird Is In The Air...
...and lands tomorrow. Or today, depending upon when you're reading this post. Anyhow, the bird (or birds, actually) I speak of just happens to be the legendary turducken, an unholy marriage of chicken, duck and turkey, smaller bird crammed into the cavity of the other and stuffed with wonderful creole-style stuffing. I learned of the magical turducken some years ago and vowed that someday I'd make one of the damn things appear at a holiday meal. This year, since I had already made mention of the triple threat to some key attendees, I checked into all of the available turducken avenues (up to and including deboning and assembling the birds myself) and finally settled on purchasing the thing from CajunGrocer.com, likely the place which knows more about them than anywhere else. As I mentioned earlier, the bird in it's protctive cryopack should arrive on Wednesday to the collective delight of myself and most of the people who will be joining us for Christmas Eve dinner. Collin mentioned to his giant son that we're having turducken and he proclaimed it to be an "atrocity." My response: more for me.
I'm Thinking About Cramming More Animals Inside Animals...
To supplement the turducken, I'm thinking about procuring a cornish game hen, quail and whole rabbit from a local meat market and constructing a RabUailEn. I'm salivating just thinking about it. Mmmmmm....
Ever Tried To Break In New Goalie Pads?..
Not likely, but it's possible. I recently purchased myself a new pair of Simmons 993 SuperFlex leg pads to replace my 8-year old pair of Boddam Air Elites. When I picked up the Elites, they were top-of-the-line butterfly-style pads. "A Goalie's Dream" the manufacturer said. I arbitrarily assigned them a 5-year life span when I first got them and, after several stitch and repair jobs and a handful of replaced straps, I was able to squeeze 8 good years out of them. My new pads came from the same manufacturer, but man, I never could've guessed how different they'd be. Many of the new features are great as far as safety go but they make skating quite a challenge, especially during the first few uses. Despite the awkwardness and goofiness, I've been able to eek out a couple of wins while wearing them, which has a shitload more to do with the fact that the team I play on is quite good than my playing well. I am getting more and more comfortable in the stinkin' things each time out which is important considering that I spent around $800 US on them and, at that price, I'm thinking that they'll likely be the last pair I buy...
And Finally, Have A Happy Holiday Season!..
Indeed, especially since I've been quite the poor blogger over this past year, I want to thank everybody who comes around on even a semi-regular basis. Granted, I'm getting a lot of search hits from God-knows-where looking for some of the strangest and stupidest things (hey, use enough words paired with enough curse words, people can find you by searching for just about any damn thing) and those are cool too, but it's the small handful of regular readers (you know who you are) that I appreciate. Indeed, I hope you have yourself a fine holiday, regardless of what you're celebrating this time of year. Here's hoping 2008 brings big fun and loads of "whatnot" to you all...
Labels: holidays, indignities, lame stories, misguided rantings