Friday, November 02, 2007
Vaunted Videoblog Vriday - Halloween Freak Train...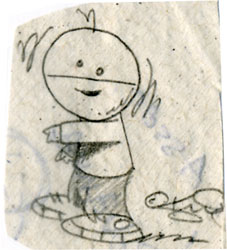 so hey, lookin' at the calendar you'd see that it's one of those "Fridays" all of a sudden. Indeed, since this past Monday was the date of
Freak Train
for October, and since both
Justin
and I went and performed, I have some videos to share with you kids. Just for the Hell of it, let's start with Justin's "Mario Monologue"...
Once again, Justin has quite the feel for the types of people which attend Freak Train and their entertainment wants and needs. That and, even though he's not quite fat enough, he makes a pretty convincing Mario...
Moving along to my performance from Monday,
last year
about this time, I did a little Halloween-themed karaoke act as "The Spooky Singing Ghost and his Disembodied Band." this year, not only did I ditch the Halloween theme, I was able to convince Terry, an engineer from work and a damn fine guitar player, to come up and back me up as I
sang
shouted like a nutcase into the microphone. Anyhow, here that is:
As always, I recommend listening with headphones as it might be hard to understand otherwise.
So yeah, there you go. More with the Freak Train videos for your visual enjoyment. As always, thanks for stopping by...You kids have a fine weekend now...
Labels: Bad Stand-Up Comedy, Singing Off-Key, vaunted videoblogs