Tuesday, July 31, 2007
Random Tuesday - Sin City, Softball and Standup (Oh My)...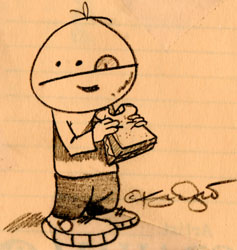 So hey, yeah. Um. Sure. I really should put some words together and make one of them "posts" for you kids to come and read n' stuff. Yes, yes, I know that I promised to recap our recent Las Vegas trip but...Well...That was a whole month ago that we took that trip and, I'm sorry, but the details are getting a just a wee bit cloudy in my procrastination-hindered brain, so...Well...OK, fine:
5 Days and 5 Nights in Las Vegas Nevada in As Few Words As Possible...
Monday we ate lunch at the Burger Bar located in Mandalay Place, between Mandalay Bay and the Luxor. Mmm, mmm! I had me a rare American Kobe beef burger on ciabatta topped with bleu cheese and pan seared foie gras. My parents absolutely loved the place (it was their first time there). We had a waitress on her first day (I had to point out foie gras on the menu) and who was obviously foreign. We all guessed Scandinavia, turned out to be that she was from Brazil. Anyhow, from lunch at the Burger Bar, we went to a wonderful early dinner at Diego inside the MGM Grand. My dad, who had been bugging me since we got to Vegas to "use the valet parking" finally got his way at the MGM. At Diego, we met up with Bison Andy's wife Andrea. We all had a wonderful meal, I enjoyed tacos al carbon, dad had the seafood pot, mom had...some food, I'm sure of it and...well, trust me, food was enjoyed by all. The next stop from the MGM was the Rio to see Penn and Teller and, I have to say, seeing them from front row center made the tricks look even BETTER...Teller even did the needle trick, during which he tossed me his partially eaten apple. A nice souvenir? No, it was sticky, I left it in the cupholder of my chair. Following the show, Teller was nice enough to take a picture with my mom and answer questions about his overly awesome shoes. Penn laughed heartily at my "Hardcore Straight Christian/Penn will tolerate me" t-shirt and posed for (yet another) picture with me. Tuesday saw us enjoying the magic and comedy of Mac King in the early afternoon and splitting up later that evening so the ladies could take in Mamma Mia at Mandalay Bay while us guys saw the Amazing Johnathan perform at the Sahara. Mom, I'm told, had a great time and thoroughly enjoyed their show while my dad and Big Al, my brother-in-law, never seemed to stop laughing at A.J. On to Wednesday, now, July 4th, Independence Day here in the states. Not feeling in top shape, I slept most of the day away on Shannon and Aldie's couch while the others played games and enjoyed barbecue. Refreshed, though, from my likely-dehydrated passing out, I joined my dad for the 11:00pm poker tournament back at our hotel (Sam's Town, in case you missed that back when I said it in my FIRST Vegas recap post). I didn't fare as well as dad did, considering the fact that he was the chip leader for some time. After I busted out, I found my new favorite Las Vegas activity: playing in a poker cash game. Yes sir, I'll be doing more of that as soon as I have an opportunity to, taking real monies from people...Whoo, now THAT'S fun...Anyhow, having got the "feeling sick" and "needing to sleep" mostly out of my system the day prior, I was ready to rock on Thursday, a day where we enjoyed breakfast at the Hash House A-Go-Go (the parents loved their food, as did we all...Again, it was their first visit to this legendary restaurant). Later that evening, we went to Austin's Steakhouse in the Texas Station Casino to celebrate Shannon and Aldie's first wedding anniversary. Even though I didn't enjoy my meal so much, everyone else at the table enjoyed the fare at Austin's immensely. After the steakhousing, it was back to the poker room for more cash game shenanigans. Indeed, on Friday morning, we all loaded into the family truckster and headed home, the bright lights of Sin City a rapidly fading rear-view mirror memory. While our wallets were significantly lighter...um...our...oh, who am I kidding? We all lost monies...That's really what it's about there, though...So there you go, kids, my long-promised recap of our recent Vegas trip. Hope you enjoyed reading it as much as I enjoyed typing it. No, really...
As if THAT Weren't Enough, I Gots A Softball Story...
So, the coed softball team that the wife and I play on called the B52s has literally been tearing up the league which we're now playing in. Granted, we've enjoyed success in the past, consistently placing in the top three of nearly every league we've participated in, but that elusive "first place" plaque has always eluded us (as elusive things are, duh, wont to do). Starting with this past spring season, the team began playing in the silver coed league at Cottonwood Creek Park instead of the (significantly closer to OUR house) Skyview Sports Complex. Granted, both leagues are under the same, city-run Parks n' rec umbrella, but the other teams were WAY nicer up at the new place as compared to the old place. We did pretty well in Spring ball, even though we finished 2nd. So far though, in the summer league, we're on a roll. Heck, going into last Friday's game, we were undefeated, having already beaten the only other undefeated team in the league in relatively convincing fashion. The only thing left standing between us and that damn championship was a team called "Mountain Perks" who had amassed an impressive 7-1 record, their only loss coming at the hands of (surprise) the previously undefeated team that, as you already know, we beat. Anyhow, as Friday's game got underway, it was clear that the Perks would be no pushovers. Their defense was solid and they had some very good hitters on the team. In their half of the third inning, their center fielder earned a base hit and, in getting held to a single, made kind of a "come on, bring it" gesture at our short stop when he didn't try and "pick him off." I thought to myself when I saw him to this "God, I hope this guy isn't going to be a prick the whole night."
Sadly, it seemed that he was...
Later in the inning, this same guy was trucking toward 3rd base, my new position, as OUR center fielder relayed the ball into me in hopes that I could tag THEIR center fielder out. As I received the ball, the fuckin' guy GRABS me as if to prevent me from placing a tag on him. As I was a little off-balance at the time, I took exception to the contact and tried to separate from the guy. As I did, he yanked on my jersey, as if trying to throw me to the ground. being the low center of gravity (read: fat) guy that I am, I reacted to his attempt in the only manner which seemed appropriate at the time: I grabbed HIS jersey, pulled him nose to nose with me and informed him that, if he didn't let go of me, I planned to snap his neck.
THAT opened the flood gates, let me tell you...
Once I let him know that I wasn't impressed with his little act, the fucker started cussing at me like nobody's business. He told me to "fuck off," he informed me in a less-than-polite manner that my team was "going down" and that I am a "bitch." After he was done, I told him to play things a little safer and to grow up, a suggestion that was met with two more "fuck yous" and another under-his-breath "bitch," considering the fact that both umpires were now keenly curious as to what was transpiring. Long story short, this guy got our whole team fired up and, in true B52 fashion, we targeted him in the outfield in the inning which followed, burning him for a number of runs. Once we built our lead, we didn't really look back, beating the Perks 15 to 6. Of course, the prick did find himself on third in the final inning...Thinking he would be able to outrun Andy's arm at short, he took off during a play and got gunned down at the plate, despite his trying to run down Elizabeth, our catcher. I've never seen one guy look so pathetically sick to his stomach following that final play, having been bested NOT ONLY by the team which he proclaimed was "going down," but by the girl that he figured he could bowl over...It's no wonder he wouldn't look at any of us in the handshake line...
A Wee Bit On Freak Train and Then I'm Goin' To Bed...
Yes, kids, I'm fashioning this post which you've been reading after having driven home from this month's Freak Train at the Bug Theater in Denver. I did a little card magic in lieu of standup and, I have to say, it went over very well...I had a ton of fun doing it, even though I didn't get to the finish of my second trick. The real story of Freak Train, though, is Justin...Yes, Justin Carmical, he of the fever dream routine from so many months ago who's been promising to go to Freak Train since the beginning of the year...He FINALLY WENT! Oh dear lord, his routine was spot-on for the demographics of the room, too, he did so well, I was prouder than a very proud thing of how well he did. Much fun was had by all and videos (including a sad tale of what the act before me did to make my following her impossible) will be posted this coming Friday for all to see.
So that's that, a long-winded conglomerate post for your Tuesday readin' pleasures. As always, thanks for stopping by...You kids have a fine day (and whatnot).
Labels: Bad Stand-Up Comedy, Card Tricks, Freak Train, get outta town, I eat food, sports