Tuesday, May 01, 2007
MAY DAY! MAY DAY! MAY...Um...Day...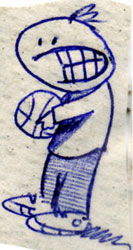 I know it sounds crazy, but I'm going to say it anyway...IT IS TOTALLY TUESDAY! No, it is! Hey, you can deny it all you want, but you'll simply appear as a FOOL fighting against the steady march of the calendar. Seriously, though, if you DO wish to try your hand at being a "Tuesday denier," try doing it like...Tomorrow. It'll really work well then...Anyhow, I'm not typing this entry up simply to fill space with utter nonsense (though it is mighty tempting). No, I'm typing this entry up so that the (big) Friday Four-Fer won't be the only thing up top here until Wednesday. As such, I should probably get on wif' 'de business...
It Was Bound To Happen Eventually...
Last night was the last Monday of April and, as such, was the night for
Freak Train
to happen at the Bug Theater in Denver. As per usual, I planned to get up there to perform. Ol'
Justin
, after months of promises, was also finally prepared to perform so I picked him up at his place of employment on the way out of town. There was, of course, a wee snag in the way of the signup sheet (which you would be well aware of had you listened to our
awesomecast episode
where we interviewed the host of Freak Train) in that Freak Train was devoting 7 of the 12 performance slots to the
365 project
. Due to this, I was pretty sure that the remaining 5 slots would go pretty fast and that we should do our best to get to the theater early and get in line. Long story short, various factors conspired to make us a little bit late. The lateness cost us spots in line which, of course, cost us a chance to perform...That's right, kids, Justin's big stage debut of the skit(s) which he thought up in a fever dream will have to wait at least another month because Freak Train was full by the time we showed up. As the headline says up there, it was bound to happen eventually. Heck, we know what we're getting into, driving up from the Springs with no guarantees so I wasn't crushed by not getting to sign up. My only regret is that poor Justin didn't get to do his thing, considering how long it's been waiting to see the light of day.
The evening wasn't a total loss, however, as we took the opportunity of being not only hungry but also in Denver and enjoyed dinner at the Las Delicias on Kentucky Avenue. For those of you not in the know, Las Delicias is my personal favorite Mexican restaurant with 5 locations in the Denver metro area. I've enjoyed the food there ever since I was a destitute student at the Denver Institute of Technology in 1992. I am sad to report, though, while the food was just as good as ever, the service really does suffer at the Kentucky Avenue location. It took us way too long in my opinion for our order to be taken and our mostly absent server really didn't seem to care whether we were happy with our meal or not. Heck, I was never even offered a refill of my drink...BAD WAITRESS! BAD!
So that's really all that I can think of to post right now. As always, thanks for stopping by. You kids have a fine Tuesday now.
Labels: Freak Train, get outta town, I eat food, indignities