Friday, April 20, 2007
Phrickin' Photoblog Phriday - One Last Look At The Stanley...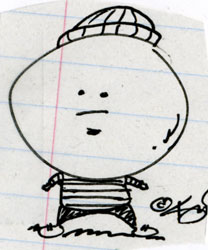 Ooh, it's Friday already...As you may have noticed (not likely, but I'm just throwin' it out there anyway), I didn't post a Goddamn thing yesterday. This was due to the sad little fact that I was "out sick," which really is a rare occurrence for me. This time of year, though, I just can't seem to shake off the sinus infections...Anyhow, talk of phlegm and other disgusting bodily functions aside, it IS Friday, as I mentioned, and that means that you kids get to see (yet another) Phrickin' Photoblog. Kind of like
last week
, but way more
like the week before that
, today's exhibition o' photos is the 3rd (and final) installment of pictures taken during our little trip to Estes Park. In today's installment, we return to the
Stanley Hotel
one last time for a wee bit of picturey goodness. I shall delay your viewing no longer - on with them photos...
click! big!
So here, quite literally, is the entrance to the Stanley Hotel. My mother took this picture of the doormat so that she could, in her words, "prove that we were actually at the Stanley." Of course, I see her point...After all,
large, panoramic pictures of the actual hotel
, those mean nothing...Those could be of any spooky, famous mountain hotel...A close-up of the damn DOORMAT, though, that's proof positive, kids...
And speaking of mom (we were) and speaking of the Stanley (we SO were) and speaking of the front door of the Stanley (WE WERE) here I am, with my mom, standing on the front steps of the Stanley Hotel (right after mom got done snapping the picture of the doormat - see the camera in her hand?) while some gargantuan beast of a woman appears to be either taking a leak or photographing the doormat in the background there...Ah, the power of suggestion...People see one person photographing a doormat/taking a leak on the front door, and they feel the need to do it too...
This here is a body of water as seen from the Stanley Hotel which I can only assume is Lake Estes. It's...um...Quite pretty, really, if you see it in person...Yep...Um...All...Watery...And lakey...So, uh...Yeah...Lake Estes...
Hey, remember
when I mentioned the old Elevator
named Otis inside the Stanley that's been running since 1908, powered by stolen souls? Remember that? Well here that elevator is, in all it's older elevatory glory...In a stunning turn of events, though, I'm utilizing my digital camera to steal IT'S soul! Yeah! How you like THAT, elevator!? ha!
And moving right along, we find ourselves in the supposedly haunted music room at the Stanley Hotel. This is a picture of (duh) the fireplace inside said music room...I will say that I'm quite appreciative of the location of the fire extinguisher here...What better place is there to have one of those than right next to a spooky, outdated and precariously open fireplace? Good thinkin', there...
And for the ghost hunters in the audience, I present to you the spooky, haunted piano inside it's spooky, haunted little nook which you can find inside the (you guessed it) spooky, haunted music room at the (is this getting old yet?) spooky, haunted Stanley Hotel. It's from this piano that spectral music is said to emanate, Mrs. Stanley visiting from beyond the grave to entertain guests with a little phantasmic performance here and there...I can't say whether anything cool like that happened while we were there, but I will say this...I'm all out of pictures to display...
So that's that...As always, thanks for stopping by...You kids have a fine weekend now...
Labels: get outta town, Phrickin' Photoblogs, spooky shit