Wednesday, March 11, 2009
Shiftless Laying-About 101...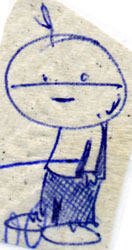 So there are a couple of you (you know who you are) who continue to berate me for not posting things here on the ol' blog (specifically that podcast that we've had in the can for a couple months). I admire your tenacity and futile belief in me, especially since this thing has all the appearance of having been completely abandoned like the remnants of some uninhabitable irradiated town that you might find if you looked hard enough in the desert right before you dropped from heat exhaustion (and radiation poisoning, dummy). True, you could revel in your über-awesome detective skills while the buzzards circled overhead for 20, maybe 30 minutes if you're a particularly hardy soul, but what then? Huh? Fine work, Encyclopedia fuckin' Brown, NOW who's fixin' to die? Wait, what the fuck were we talking about here? I got off track...Anyhow, yeah, I guess I should start trying to make up for my glaring shortcomings by giving you kids something which you didn't specifically ask for...A random update-filled post...
I'm Still An Unemployed Bum, But At Least I'm Workin'...
It's true, I have yet to find gainful, full-time employment in any of the career fields in which I claim to excel, but I HAVE been picking up
just enough
freelance work (including working a couple half-days a week at the agency that laid me off) to
fuck up my unemployment check
eek by on the bills and things. Don't get the wrong impression, though, ain't no one gonna start puttin' in bids on my house and possessions just yet...Things haven't reached that level of "dire" at this point, but I'd SO rather find some manner of full time work so I can return to my former lifestyle of luxury and excess...You know, the lifestyle where I don't have to stock my freezer with
Totino's Pizzas
and/or the wife and I can go out to eat without nagging thoughts about the mortgage payment ruining the evening. Truth is, jobs are few and far between for everyone and I'm not the only "creative professional" out of work in this area. I'm thinking that freelancing full time may be my future. Anyone need a website? How about a logo. can I interest you in a direct mail campaign? No? How about a replica Rolex?
I Have A Couple of New Websites to Visit...Give 'em a Look!..
www.derekknightcreative.com
www.derekknightisfunnygoddammit.com
What The Fuck Good is LinkedIn When It Never Loads?..
Seriously, it never loads up for me. What the Hell is wrong with that site?
All Things Being Equal, I Prefer To Vanquish Strangers...
So, given that I have a newfound amount of time on my hands and that I'm also "open to new challenges," everyone's old buddy
Collin
sent me some info about a month ago about an organization called
Geeks Who Drink
looking for Quizmasters to run their Pub Quizzes in various locations INCLUDING Colorado Springs. The requirements were pretty simple...Quizmasters need to be able to speak clearly on a mic in a bar, deal with being harassed by drunken PhD candidates and also own a laptop and digital camera (you know, so you can blog about all that crap afterwards). The info noted that the gig pays
just enough
(including a bar tab) to make doing it worthwhile (did I mention the bar tab?). I consider all of the aforementioned (including using up a bar tab) within my specific skill set, so I sent in an "application." I didn't think much of it until last Monday when I got a call out of the blue from the Geek in charge. Seems he was running a bit behind in contacting people, but he wanted to know if I could audition later that evening at Jack Quinn's. After a bit of hemming and hawing, I agreed to be at Quinn's at the appointed time to show off my skills in front of a crowd. When I told Collin about it, he said "oh yeah?
Justin
has an audition tonight too!" personally, I thought that this was a wonderful break! Having a friend at the bar in the same boat would take some of my crowd-and-stranger-hating trepidation away! I called Justin and told him of the news and, strangely, he didn't share my enthusiasm right away. "You...You're the other guy?" he asked, right before shouting expletives. Justin explained to me that he got the call last week about auditions and was told that it would be him and "one other guy." Apparently, Justin (unemployed just like me) had been feeling confident enough to buy a laptop leading up to audition evening whereas I was given so little notice, I didn't have time to be too terribly anything. Eventually Justin agreed that it'd be fun having such friendly competition and that we could stick around and play the quiz together (which we did) I thought Justin did pretty well during his audition and he thought the same about me. I really wanted Justin to get the gig, but I wanted the gig too...As it turns out, I was the one hired on to be Quizmaster on Sundays at
Oscar's
and Justin wasn't. I was simultaneously excited for myself and sincerely sorry for Justin when I got the call telling me that I was chosen...Hey, in every kind of contest I enter, I love to win. I prepare to win. I play to win. This is a new thing for me, though...When winning comes at the expense of someone I actually
like
, I feel kind of weird about it, know what I mean?
Anyhow, weirdness aside, I went through quite the abbreviated training schedule with the other two Colorado Springs Quizmasters, observing on Wednesday and performing the quiz on Thursday...On Sunday, it was my first crack at full-blown, solo quizmastering since the old days of "Noon Name That Tune" at Graham...All things considered, the quiz went pretty well. It's a new venue for the quiz on a night not typically set aside for drunken brain olympics, but I think it'll catch on. Overall, given the whole "bar tab" aspect of my new part-time employment, I couldn't be happier about the placement. After all, Oscar's serves things like crawfish ettoufée...CRAWFISH, BITCHES! Fuck YES! So come out and play the pub quiz on Sundays at 7:00pm...No cost to play and your team of up to 6 diversely knowledgeable people can win gift certificates...On top of that, it's totally in vogue to go to work on Monday with a hangover and smelling like fried shrimp. Seriously, you could look it up, but why waste the effort when I've already told you how cool it is. You want to be cool, right? RIGHT!? Yeah, that's what I THOUGHT...
Sometimes, Even When You Don't Want To, You Have To Spend Money...
So this whole freelancing thing has forced me to use the desk in our back room a whole lot more. As you may imagine, things like this go hand in hand with sitting in a desk chair. As some of you know, I'm a notoriously cheap bastard and there are just some things I don't like dropping a lot of money on. A desk chair for home use has been in that category...The first desk chair we bought was one of those 40 or 50 dollar Wal-Mart jobs: About as sturdy as a plastic crate and probably just as comfortable. It lasted a year, maybe, before it started to list like the Andrea Doria...Finally, it went into the trash and a dining room chair was repurposed as the desk chair. None of this mattered much, at least to me, because I spent very little time at the desk. Eventually, I was able to rescue an old conference room chair from meeting a dumpstery fate at the agency I used to work at...Granted, the chair was thickly upholstered (in hindsight, I may have been singularly blinded by that), but it was definitely in disrepair...It was missing the cylinder with which you could change the height of the chair which meant that it had very limited stability...Again, not a big deal to me, because I only really sat in the stupid thing for
awesomecasts
(and we all know that I hadn't done much of that recently)...Now, though, with the aforementioned salvage chair receiving daily use, sometimes for hours on end and always by someone of my considerable girth, it's lack of structural integrity was causing me legitimate concern...At any moment, I believed that the whole thing could collapse, sending my fat ass through either the glass top desk or the sliding glass door next to the glass top desk...Both scenarios had me thinking "severed artery" at the very least and, to be honest, my copious assmeats were becoming increasingly sore from the marathon balancing sessions. "No more," I thought. It was time to buy a chair...I first looked at Sam's Club, since you're led to believe that things are so cheap there. Sadly, I found the chairs ol' dead Sam Walton offers to be "not quite comfortable enough" for the price. I then set my sights on an office furniture store on the north end of town that was going out of business and "taking all reasonable offers" in a vain effort to clear out their overpriced shit. After trying to ditch the salesleech that crawled onto my back as soon as I entered the joint by sitting way too long in every chair on the floor and leaning precariously far back in most of them, I found a chair I liked. I offered $110 big American dollars for a reasonably comfortable blue chair with adjustable arms. Leechboy was visibly offended by my price estimate and told me to "try tripling that." After announcing that only a 'tard would pay 300 (US) for a fabric-upholstered medium-back desk chair, I walked out. My chair options dwindling, it was decided that
American Furniture Warehouse
would be the place to buy...Historically, while their selection and prices are hard to beat, I've avoided going in because it was inhabited by the most predatory of sales people. Why, back in the day, you'd consider yourself lucky if you made it 12 feet without being accosted by some member of the sales staff with apparently little else to focus on but YOU. Times have changed, however, and it was like pulling teeth to get someone to take my money on our most recent visit. Finally, though, some skinny bitch stopped hiding in the bathroom long enough to let me buy the reasonably comfortable leather chair that I'm sitting in now. I didn't really think the process of buying a damn chair would be this hard, and I was hoping to not have to put the thing together myself ('cause I suck at that kind of thing) but it's done. I spent money without a job and my ass thanks me for it.
So I guess that's about it for now...I really should get to bed so I can enjoy another day home with my son tomorrow...You kids have a fine rest of the week...As always, thanks for stopping by.
Labels: indignities, lame stories, tales of triumph