Thursday, July 24, 2008
What, You Act Like I Never Post Anymore...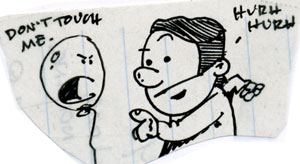 Yeah. So. Um. It's been quite a while since I showed any sort of initiative and posted on this blog. Look, it's not for lack of wanting to...It's simply for lack of time. Indeed, when you have a little baby at home, your former spare time gets reallocated pretty damn quick. Anyhow, things have been going on since I last posted (which was back in June, in case you're keeping track and, hey, why wouldn't you be? You're here, after all) so I shall try and fill you in on the things now...
Max Is Growing Like Crazy...
As children are wont to do, Max continues to eat, poop and grow. Saturday will mark the start of his 5th month outside his mother's belly. We sure have a lot of babyproofing to do to our house as the little boy is getting very close to being mobile. Oh sure, as it stands his only form of locomotion can best be described as "rolling and wiggling," but that shall give way to crawling and walking before I know it. As a bonus, here's a handful of recent-ish pictures featuring our little Max.
click 'em, they get a little bit bigger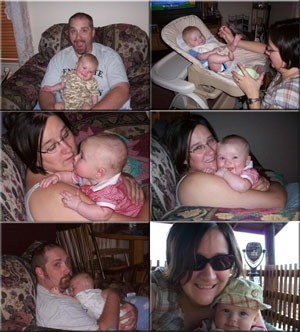 This weekend, Max is going to meet one of his great-grandmothers for the first time, though she's not aware of it yet. Everybody loves surprises, right?
Baseball: Still Hard. Getting Hit by a Baseball: Not Hard at All...
So yeah, I mentioned that I'm playing in a 28 and older baseball league. Things have gotten better for me as far as playing time since that writing (I'm not only playing more, but I'm playing more at first base which is much nicer than right field). We've still won only the one game and we're getting our collective asses handed to us score-wise every time out, but it's still fun. And I get exercise. Additionally, I have to imagine (not that I've done any research to back up this claim) that I'm leading the league in HBP (hit by pitch). I've been hit at least once in each of the last 4 games and was plunked a couple of times earlier in the season. I'm not going to charge the mound over it, but I do have to wonder: why me so much? One of the pitchers who hit me in the last game told me I get hit because I crowd the plate. Fair enough, but my sneaking suspicion is that I'm getting hit because I'm fat...Too large and inviting of a target to resist...
Softball: Not Hard at All, Especially After The Big Move...
Last season, the co-ed softball team that the wife and I play on went undefeated for the first time ever and won the championship. Because of this, we kind of assumed that we'd just continue our winning ways this season, since we were still playing silver co-ed, like last year...
Or so I thought...
Apparently, the Park and Rec folks have started separating each level (gold, silver and bronze) into different "upper" and "lower" divisions. Apparently, while we were ripping through all those other teams like a hot knife through butter last season, we were playing "lower" silver. We started this season in "upper" silver and lost our first 3 games. Granted, we only lost 2 of the games by 1 run, but following our uncharacteristically poor opening, them genius Park and Rec folks moved us back to "lower" silver. Since the move, we're beating teams handily without having to try which, frankly, just isn't any fun and isn't fair to the teams who could and should contend in that division. I would've much rather stayed in the upper division, had a poor season, used the experience to get better and come back strong next year. Instead, we get sent back down to beat on patsies and foster bad playing and hitting habits because the games aren't close. Feh...
Awesomecasts Are On The Way...No, Seriously...
I heard tell through Collin that my sister was all pissed at me for not having posted any new podcast episodes since the middle of June...Apparently, her question was something like "why do we bother to record them if he (I) won't post them?" The answer is simple, really...BECAUSE, FOOL!
Actually, it's because it takes a couple of hours to properly produce a half-hour podcast episode once the recording is in the can. It's true, I do have about 4 episodes in the can just waiting for me to sit and get them all dolled up...The problem is that I simply haven't had the time to do such things. I do hope that I can rectify the situation soon, though, so be on the lookout for more new episodes of the ol' awesomecast...In fact, keep watch in shifts. You know, one person keeps an eye peeled while the others sleep...Just like in Stand By Me or Disorganized Crime. Anyway, yeah...Podcasts coming soon...
I'd Forgotten Just How Fun Singing Karaoke in a Bar Could be...
So the Sharks had a game last night against the Ice Hawks which just so happened to be Don's last game playing with us. He's...What? Who's Don you ask? Don is one of the guys from the hockey team I play on. Yeah, he's originally from somewhere on the East Coast. Uh huh, yeah. He's the loud one. Right, now that we have THAT established, Don is leaving to take a job in Alabama. As such, after the game, a handful of us followed Don over to the Hatchcover for beer and wings and things. I have to preface things by saying that, some years ago, I used to go to the "down the Hatch lounge," the bar above the Hatchcover, on a regular basis for karaoke. At this time (and we're talking 10-plus years ago), the lounge was kind of a cozy, classy place above a medium to high end restaurant. Fast-forward to 2008, though, and the whole place has the vibe of a low class pool hall and dive bar. Oh sure, the same couches and stuff are in the upstairs as 10 years ago, but they look old and worn. Hell, I didn't even recognize the place and I used to be a regular there...Anyhow, it just so happened that it was karaoke night and, being that I'm never easily embarrassed, I sang a few. I haven't actually sung karaoke anywhere but in my own home for about 4 or 5 years. This was mostly due to my loathing of cigarette smoke, loud and obnoxious karaoke hosts and people in general. I built a smokin' sound system based around some of the equipment I already had from years of mobile DJ work and have amassed a decent karaoke library...Whatever, yeah. I'm a hermit. Last night, though, I got to put all that aside and sing in a bar which, since the anti-smoking laws passed, is a lot more enjoyable than it used to be for me. I coudn't have predicted the reaction, though, when I sang the Digital Underground classic "the Humpty Dance." Those fuckin' people in that dive bar went totally nuts. One lady even begged me to stick around and sing some more, something people have never done to me. Frankly, though, despite how fun it was and how sincerely I appreciated the flattery, I missed my wife and my boy so I chose to head on home...
I think that's about it for now...As always, thanks for stopping by, kids...You all have a fine month/year/decade now...
Labels: Baby max, lame stories, Phrickin' Photoblogs, sports