Monday, May 05, 2008
No, Am Not Dead...Am Dad...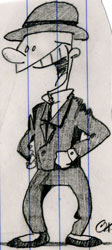 I don't know if you noticed (and judging by the dearth of comments, you havent...but then again, judging by the number of daily hits, somebody MAY have) but I completely missed the month of April. Well, not in "real" life, but here in the world of the ol' blogsitething, April '08 came and went with no fanfare. Or blog postings. Or anything. Anyhow, it's May now and I'm taking advantage of the fact that the boy is feeding off of his mom to type up a potentially lengthy update-style post which, if executed correctly, will hip you kids to what sorts of things have been happening over Maison De Chevalier way...
Yeah, Max...He's Still Around...
Max is now a couple of months old and is a fat little baby. He can see objects and people at greater distance now and is smiling and laughing quite a bit. It's funny to think that when he was at his lowest weight it just never seemed like he'd grow at all and now he's simply massive by comparison. People still say "oh, he's a little one" (among other phrases) when they see him, but these would be people with no basis for comparison. Max is getting bigger everyday and is quite healthy. So there ye be - a Max update to fill that tiny baby shaped hole in your heart.
Max's Grandpa Is Doing Well Too...
I don't know if I mentioned this already on the ol' blogsitething, but my dad had gastric bypass surgery on Halloween of last year and is doing very well. To this point, he's lost somewhere around 125 pounds and is quickly closing in on being less fat than I am. The weight loss has helped bring his diabetes under control and has given him more energy and a sunnier disposition. So there's that...
Work's Going Fine, Thanks...
Nothing much to report there...Just busy...
Baseball: Harder Than You remember...
The last time I played baseball in a competitive manner, I was like...12 years old. I know I mentioned in passing that I was (am) playing in a men's baseball league on a team called the Cubs. Now, don't get me wrong, I love baseball. Not as much as hockey, but I still love baseball. I have yet to decide, though, whether I'm playing baseball at age 34 just to prove that I can or because I actually want to. Hell, sometimes I wonder if I can find the line separating those two reasons in everything that I do...Anyhow, baseball...We've played 3 games to this point (including a double header this past sunday) with one win and 2 losses and I'm doing OK so far. I have a .300 batting average with a small handful of RBI and even got to catch a couple of innings at the end of the last game. I've spent most of my (limited) playing time so far way out in right field which, since I haven't played outfield since...Well...Ever is a bit of a challenge. Don't get me wrong, I can play in the outfield...I've never had a problem tracking fly balls, it's the running that sucks. My biggest problem with the scenario? I'm an
infielder
. Most specifically, I'm a first baseman, a position which I doubt I will be allowed to play this season. I guess it's my own damn fault, I had this crazy notion that because I'm a fair-to-midland hockey goalie, I might be able to play catcher. As such, since I expressed interest in the position/bought the equipment, I'm kind of locked into being the "backup" catcher - warming up the starting pitchers and playing a couple of innings here and there in the outfield while I wait to see if the starting catcher gets hurt or tired. Now, I don't want to come off as a whiny little bitch about all this...I'm definitely the 2nd best catcher (out of 2) on the roster and I still get to hit even when I'm not playing in the field (so far, at least) 'cause that's something I can do but...Eh...There's always Summer softball coming up...At least Jason isn't afraid to put me somewhere that I can make a difference...
And Speaking Of Hockey...
I hate the Detroit Redwings.
Oh Yeah, The Podcast...
Sure...That thing...I'd love to get that thing back up and running, but I'd have to find the time to sit down and record even one. I know that Collin and I (and our cast of...2 or 3) could find tons of things to talk about...It's just finding the time. Little babies tend to monopolize one's time in a given week, free or otherwise. I promise, though, it is not dead...It shall come back and I will have Max Moments™ where Max makes random noises during the show...Heck, I might just try and do whole shows with him hanging out with me...Anyway, that's all moot until I can get us all back together to record...Stay tuned...
That's Enough Good-ish News...Let's Get To The Bad...
My grandmother Marjorie, who's health has been steadily failing
since my grandfather died
, was moved into a care facility this last week. Her kidneys are failing (among other things) and has to be on dialysis. True to her O'Dell blood, though, she's as stubborn as ever and had been refusing help and/or care leading up to all of this...Please think a good thought/say a prayer for my grandma. Thank you.
I've Never Been A Fan Of Cancer...
But hey, who is? You never hear anyone rooting for cancer. "Go, Cancer! Go!" No, you just don't hear that...Anyhow, some years ago, I lost a friend of mine named Gus to cancer. Gus and I had played hockey together on a couple of teams here in town. During that time, Gus had hosted a couple of team parties out at his house. Hanging out off the ice, we all got to know him as a generous and genuinely nice person with a warm heart. It was very hard to sit through his funeral knowing that I would never again be able to talk with him or hear him say something witty or inspiring...At Gus' funeral, though, cards were passed out with an inspirational message that, basically, sayed "don't quit." I carry that card with me in my wallet and refer to it at times when I feel overwhelmed or just plain tired. I only mention this because about a week ago, I received some sad news...A person who I consider a friend told me that he was diagnosed with advanced lung cancer. I'd like to ask anyone who reads this little site to say a prayer for my friend. He's going to have to undergo chemotherapy which can't be pleasant. I'll post vague details as events warrant and I have one request...Don't quit...
Labels: Baby max, lame stories, sad stories, sports