Friday, November 30, 2007
Vaunted Videoblog Vriday - November Freak Train...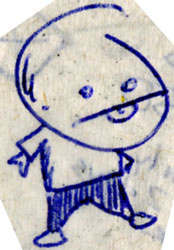 Oh, yeah, look at that, it's Friday. That WOULD mean, if I had my collective "shit" together, that I would be posting some manner of visual item for your eyes to enjoy (alternately: gaze upon). Lucky me, though, due to the fact that I stayed up last night after playing a late hockey game, I have such treats for your weary corneas in the form of the videos we shot at the most recent Freak Train this past Monday. We'll start with Justin and his second Mario Monologue, for which he has a new theme song courtesy of GameJew...Heck, why don't you just watch it, that way I can stop typing...And stuff...
Next up we have...well...me. I was going to do some standup comedy and had intended to
write
some but, due to the whole "being busy" thing, I never really got around to that so here I am, just kind of rolling off the top of my head, with "jokes" that either never made the cut before or that I never got around to using. As a quick side note, Jesus Christ, I'm fat...
So there you go. As always, thanks for stopping by. You kids have a fine Weekend now...
Labels: Bad Stand-Up Comedy, Freak Train, vaunted videoblogs