Tuesday, November 06, 2007
Random Tuesday - Work, Work, Work...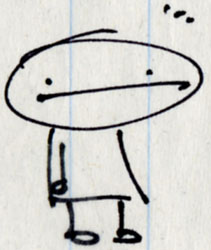 Hey there, kids. I'm not sure how many of you still come around here, but I figure that I'll still slap up a post every no and then. Indeed, they have been less and less frequent, pretty much dwindling down to the Wednesday awesomecasts and nothing more. Really, it's been because of a number of factors. I've been busy, I've been tired, I've had no motivation to sit and write, I've had nothing that I feel warrants writing about...You know, the usual. Indeed, though, there HAVE been things to write about, things that I surely could've turned into some manner of post, but I've let them drift away like so many old folks on ice floes. Who did that, the vikings? Anyhow, yeah...I just haven't felt awful creative lately (and yes, by "lately" I mean "the last few months"). This is especially bad news for me at work because having that feeling seriously hinders my ability to do...well...stuff...And speaking of work, even though it's not a good idea to do so on a blog, I was promoted a couple of months ago to "Art Department Production Manager." Indeed, it's wonderful to be promoted, it's always nice for someone to say "you're doing a good job" and all of that and seriously, it's more work but it's valid work, keeping track of the schedule and things. Work that needs to be done and I feel I'm doing a fine job of completing it. The only problem, if there is one, is that it doesn't leave me as much time in the day to be creative. There are times when I feel a bit inundated what with the keeping up with schedules and times and, of course, doing a fair portion of the scheduled work. So if there's an excuse waiting in the wings, I've just turned the spotlight on it. Oh, sure, work isn't the only thing that's kept me busy...There was football season which is only recently over...Wrestling season has already started...There's golf on the weekends (and Lord knows that i must get in as much of that as I can before the weather turns nasty). There's hockey once a week...Um...Let me think, what else can I blame my non-writing rut on? Perhaps the ghost of Abraham Lincoln? Sure, he was here last night rooting through my kitchen cupboards, making quite the racket and depriving me of the sleeps...
Sure...Sure he was...
Along with the Mothman...right...
So anyhow, even though it was done in quite the last-minute fashion, I felt that last week's awesomecast (the big Halloween Spookycast) didn't turn out half bad. for those of you who haven't listened to it yet, I should implore you to do so. My favorite part of the whole thing was the prank call to KNYE radio in Pahrump, Nevada. The reason I did that is because KNYE is the radio station which Art Bell, noted paranormal enthusiast and former host of Coast to Coast AM, owns. Hell, he runs it out of his house there in Pahrump. Anyhow, some weeks before Halloween, I had emailed and asked if he would grant an interview for the ol' spookycast and he never responded. As such, in the grand Halloween trick-or-treat tradition, since I couldn't egg his house (is way too far to walk), I prank-called his wife, essentially...Got my "interview" that way. Ha. Ha ha. Anyhow, it's short, but it's in the 'cast and worth listening to in my opinion...
Ooh, I forgot to mention (until now, of course) that I'm currently driving a stinky rental car while my wife drives my truck around. See, the wife's vehicle (a 2005 Saturn VUE) recently had a problem with the clutch cylinder (or whatever) and had to be serviced. After service, though, the damn thing was still leaking fluid so we took it back to the dealership and they gave me a Chevy Cobalt with a mystery stain on the passenger seat and an overwhelming aroma of cigarette odor to drive around. Yippee.
Why is the wife driving the truck, you ask? Simple: it has a locking gas cap. She don't work in the best neighborhood, you see.
"...Here's one big bastard of a check, give me some of your Christing money!"
I like that, though I can't recall what movie it's from...Help me out, would ya?
Anyhow, here's hoping that I can recapture at least some of the ol' creativity that I somehow believe that I once had and turn this desolate wasteland here into something at least worth granting a passing glance toward. Hey, maybe things will pick up with tomorrow's awesomecast installment which, of course, has yet to be recorded...um...and...damn. So yeah, hey kids! Thanks as always for stopping by! You all have yourselves a fine (and creative) Tuesday now!
Labels: indignities, lame stories, office supply aggression