Thursday, October 11, 2007
Phrickin' Photoblog Phriday - Our Nation's Capital, Part One...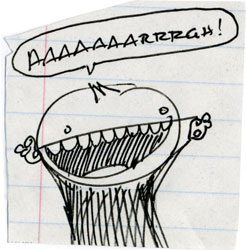 So yeah, you must be thinking "what was going on that Derek had time to post here at this dusty, overgrown excuse for a weblog?" Indeed, I found the time to put together today's wee photo display while watching the first game of the NLCS on TBS. As such, before I get to the meat of today's posting, I have a couple of things to mention...First off, hey, Arizona baseball "fans." You are a disgrace. You should collectively be embarrassed by your collective ignorance and lack of respect for the game. You can all go to Hell. Additionally, to all of the sportscasters who feel "cheated" that they have to cover the Colorado Rockies in the postseason: cram it up your ass. That is all...So hey, how about some hot photoblog action, huh? Sure, here we go...
click on 'em, they'll expand like the gases inside a decomposing body (but without the unpleasant odor and residual sadness)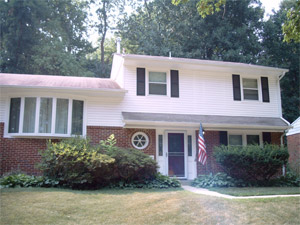 This photoblog picks up where
THIS photoblog left off
about a month ago. This is the second phase of our August vacation which was, of course, a visit to the Washington D.C. area. We stayed with our friends Kathy and Chad and THIS is their palatial half-million dollar estate. No, I'm being serious. I mean, it's a nice house and all, but it'd cost no more than a couple hundred thousand in MY neck of the woods. Cost of living in our nation's capital, however, quite a bit higher...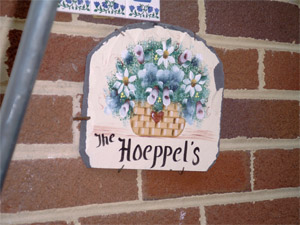 Here's a closeup of the sign by the front door which proclaims that the house is indeed the one which belongs to Kathy and Chad. Looks like someone's been making regular trips to the craft fair...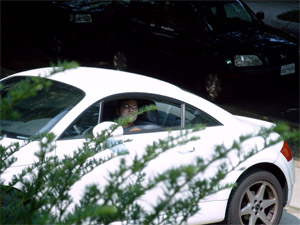 En route to Kathy and Chad's place, we made really good time (mostly because I drive extremely fast when I'm behind the wheel of a rental car). As such, when we arrived, Kathy was still out, having made a run to the store for "provisions." Of course, by "provisions," I mean "Booze and stuff." Anyhow, here she is arriving home from that shopping trip in her sporty Audi. As a point of trivia, I had to teach her how to drive a standard so that she could drive that car. I got to drive it once. It FLIES...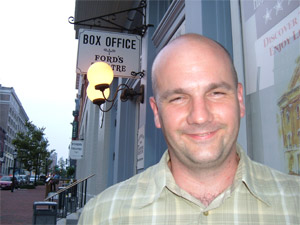 So now that you've met Kathy, we'll jump ahead in our day and introduce you to Chad. Well, his name is actually Frank, but...Well...Anyhow, look, he goes by "Chad" and he's big so you just do what he says, ok? Indeed, here is CHAD in front of Ford's Theatre and, yes, he'd been drinking. Frankly, we all had at this point...So there you go...Hi, Chad!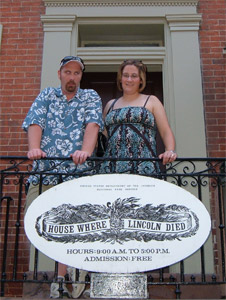 I've
covered on this wee blog in the past
that I suffer from necrolepsy - a rare condition that means that I have a propensity to temporarily die at random times - and here I am having an "episode" right in front of the house where our 16th president met his significantly more permanent demise. Anyhow, regardless of the free admission, the joint was closed so this is all the closer WE got...
So yeah, since we were in our nation's capital, you would assume that I would have all manner of pictures featuring the more famous monuments and "whatnot." Well, you would be right, even though I am saving the good shots for future photoblogs. The thing is, though, this was about all the closer we could get to the White House, so here it is: a cockeyed shot of the house where W lives. As a point of interest, that lady on the left thought I was stopping to take HER picture. One side, bitch! I's lookin' at HISTORY here!..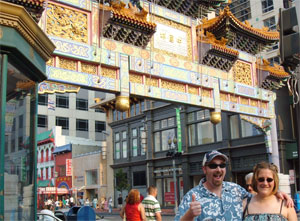 So I THINK that this is called the "Friendship Arch." Maybe. I can't remember. Look, I DO know that we were standing in front of the entrance to D.C.'s Chinatown and that I approved. Right after this picture was taken, we enjoyed some snacks and strong drink at an authentic Irish Pub...In chinatown...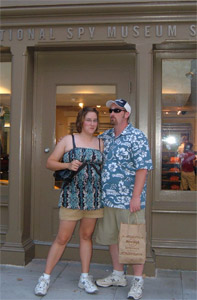 And here we are, full to the brim with the intrigue, out in front of the International Spy Museum. It's one of the few museums in the D.C. area that you have to pay to get into and...Er...I...Well, I didn't find it to be too terribly exciting. But there we were, nonetheless, outside afterward with our cover identities intact.
So that's that...As always, thanks for stopping by...You kids have a fine weekend now...
Labels: get outta town, Phrickin' Photoblogs