Friday, September 14, 2007
Phrickin' Photoblog Phriday - LIVE! From Amish Country!..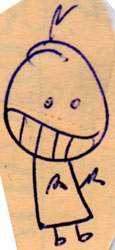 So hey, has it really been a couple of weeks since I saw fit to foist yet another phrickin' photoblog on you kids? Wow, seems like only roughly 14 days or so. Anyhow, here we find ourselves yet again with a Friday staring us in the face. What do we do when a Friday gives us the proverbial "hairy eyeball?" WE SHOW IT VACATION PICTURES, FOOL! Indeed, that's what we're doing today so sit back, relax and enjoy another installment in the seemingly never ending series that is Knight family vacation photos 2007...
Click them, they grow up so fast.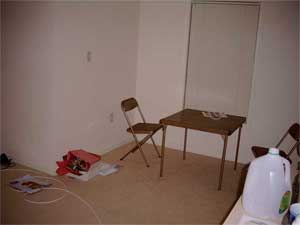 We begin our photographic journey today in the spartan surroundings of our buddy Andy (and Andrea)'s apartment in Lancaster, To be 100% truthful, it was actually in Lititz, a nearby suburb, but that's neither here nor there. What IS here (and there, for that matter) is that the place was appointed in a Spartan manner, festooned with not but a card table, two chairs, a barstool and an air mattress...Oh yeah, and cable internets.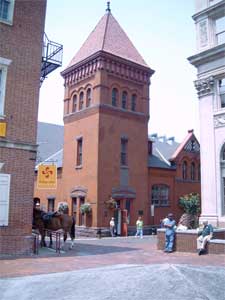 This here is the exterior of the Lancaster Central Market, a historic venue for buying, selling and (maybe even) trading of all manner of edible goods. Indeed, this place was full of the hustle and the bustle the day we went. It was also insanely hot inside...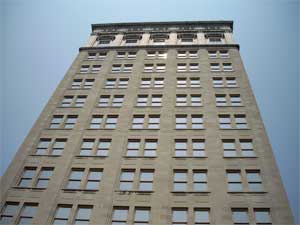 Not far from Central Market stands this building which was represented to me as Lancaster's tallest building. What goes on in there, I'm not quite sure. I imagine whatever it is must center around a whole lot of gloating and "we're so damn tall" parties. If not, well...Then the folks inside are underachievers, that's all I have to say about that.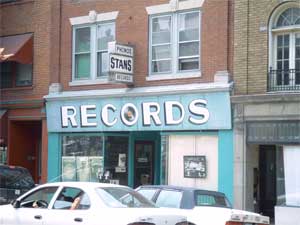 Also not far from Central Market is this neat little storefront. by God, it looks like it fell straight out of the 1950s what with it's signage and it's facade and it's liberal use of the color teal. I had to take a picture of it when I saw it. To answer your next question: no, we didn't go in. To answer your NEXT question: um...I don't know. Next question? Probably.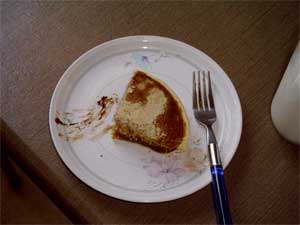 Here we have one of the regional culinary delights of Amish Country, the inimitable shoo-fly pie. I had it on good authority that this was some of the best shoo-fly pie which money could buy and, sadly, I wasn't too impressed. I guess it's just my dirty yankee ways, or something such as that, but it didn't make me swoon or beg for more. Heck, it was so sweet, it was hard to finish. But yeah, shoo-fly pie, bitches.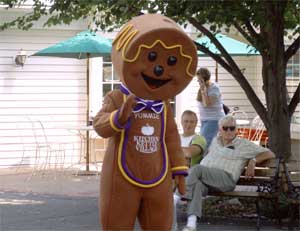 Hey, this is cool, it's the only picture I saw fit to take during our short visit in the Amish stronghold of Intercourse, Pennsylvania. This is Yummie, the mascot of Kitchen Kettle Village. Yummie is a freakishly mutated gingerbread man who runs about the village giving noogies and wedgies and assaulting old people and small, helpless children. Don't believe me? Ask the openly gay couple on that park bench there, they saw everything. Hell, ask the elderly lady in the background, calling the cops on her strangely massive cellular telephone...That thing was CREEPY...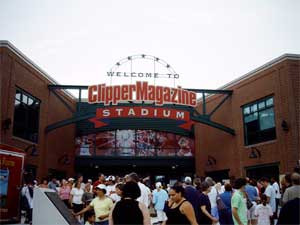 Welcome to Clipper Magazine Stadium, the home of YOUR Lancaster BARNSTORMERS! (yay!) sadly, this is as close as we came to ol' Clipper Magazine Stadium because I grossly underestimated the popularity of minor league baseball in Amish country. Seems that you can't simply wander up to the box office on game night and expect to get tickets. I guess it's true what they say...One does not simply walk into Clipper Magazine Stadium...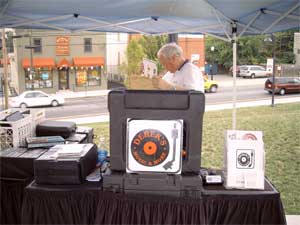 And then there's THIS f-ing guy...He was playing music outside the stadium and also imploring the people around him to dance (or worse). I only snapped the picture because I'm usually intrigued when I find someone who A: has the same first name as I do, B: SPELLS said name the same way I do and C: does something which I also do, mobile D.J. in this case. Granted, my logo wouldn't be nearly as lame and I'd be WAY more inclined to use a name like "Derek's Music and Stuff" instead of "and more" but you can't have everything, right? As a side note, here's a fun game to play...Walk up to someone you don't know and snap a picture of them. When they look at you, expecting an explanation, look at them with a kind of stern "we'll be watching you" face and walk off. Don't say a word, just walk off.
So there you have it, more in the never ending parade of vacation pictures, this time STRAIGHT from the heart of Amish country, USA! As always, thanks for stopping by...You kids have a fine weekend now...
Labels: get outta town, Phrickin' Photoblogs