Sunday, September 02, 2007
So...What's Up?..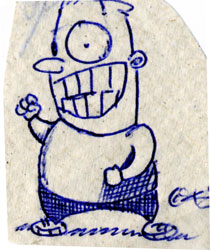 Hi kids. How are you all anyway? I'm doing fine myself, although I feel as if I've been severely neglecting by wee blogsitething here over the course of the last couple of months. Truth is that I've been quite busy with some things and, since the ability to post entries from work has been taken away from both Collin and I, I find myself often forgetting/being way too lazy/being way too ready to go to bed most of the time to get anything posted from home. It's not that I haven't written (or started and never finished writing) posts which could fill precious space here in between photoblog phriday and Awesomecast Wednesday (and whatnot). No no, I have done some (near) writings...I just haven't had the gumption (as some of my older relatives may say) to get my shit together (as likely none of my older relatives would say) and give you people some reason to continue coming around. Hopefully I can find some time to do such things (like, you know, right now) and get my fat ass back on track...
So Yeah, There's "News" to Share...
Some weeks back, during one of the podcast episodes, I succumbed to pressure from Collin to reveal some "big news." I then remembered that our friend Kathy regularly listens to said podcast (thanks, Kath!) and, since the wife and I were going to wait to give her and her husband the "big news" until we were out in their neck of the woods during our vacation at the beginning of last month, I scrambled (ok, not "scrambled" so much as "turned backwards") the "news" so she would be all in suspense and such. Of course, our buddy Justin Carmical unreversed what I had said (using, of course, the same inexpensively free software that I use to edit my 'casts) and was quite congratulatory. Others knew as well although I still have yet to tell too many people at work. This news which I speak of is that my wife is pregnant with our first (and likely only) child. I say "likely only" because the trouble and worry that we've gone through in the last few weeks has really worn on me. I won't go into too much detail other than to say that perhaps there are too many tests and such available to us in this day and age, giving doctors way too many reasons to (needlessly) worry us to death. Anyhow, due date is sometime in March. I'm accepting submissions for names starting now...
And Speaking of Submissions...
Collin and I have been participating in the "Shirt Derby" at shirt.woot on a semi-regular basis since it started up some weeks ago. See, it's a design competition based around a weekly theme where the voters are anyone who has purchased a woot (regular woot.com, wine.woot or shirt.woot) ever and the winning design (actually the top 3 designs now) get printed and sold and the winning designer(s) receive(s) $200 for their efforts. Kind of like Illustration Friday with prizes. Anyhow, to this point, Collin has been able to work a zombie theme into his derby submissions with relative success and I've just been throwing up whatever spews from my fetid headmeats, drawing on not only my questionable sense of humor but my years of t-shirt design and production experience. Sadly, though (and I know I'm going to sound like a whiny little bitch here) the unwashed voting masses of shirt.woot seem to be
fucking retard 1337 geeks
a little hard to figure out as they vote for
often the most retarded and poorly executed dogshit
things in an unpredictable manner. Collin has done better than I have overall (even though my lone design beat his designs' collective ASS last week) but neither of us will ever likely win. This is ok to a point but when he and I are submitting the best design executions each week (no, seriously, we are), it gets a little frustrating to get outvoted by some hunk of shit pixelated crap design that won't even print right. Either way, I'm thinking that this week will likely be my last week giving any of my time over to the shirt derby. My concepts were strong for the theme (fictional sports teams) and my execution was fine. Despite that, I'm receiving next to no votes. Time to pack it in. I'm done giving Woot the rights to something I produce entirely from start to finish for 60 days, I'm just gonna take my things straight to Cafe Press (where they can languish in anonymity as well, but at least they'd belong to only me).
And Yeah, The Officiating. It's Football Season Again...
High school and middle school football is upon us once again all across this great nation of ours. This is my second year officiating football at this level and, unlike last season (my first), I feel as if I'm completely unprepared. Yes, this feeling has a lot to do with the somesuch whatnot which has been keeping me from posting on this here blog recently and, to add to all of that, my new crew chief (a highly respected official who also just happens to be head of the state association of football officials) wants be to learn the position of back judge. That, my friends, is not a problem. Back judge may be the least stressful officiating position on the football field from a mental standpoint. From a physical standpoint, though, it will prove to be quite a challenge. I'm sure I've mentioned this before but what the heck, I'll go over it again. I am 5'9" tall. I weigh in the neighborhood of 255 pounds. I could compare my physical stature to that of a brick on end or a fire hydrant. I do not enjoy running in the slightest. Since tearing my MCL joint in my left knee during a hockey game in September, 2005, I've had problems with both knees. Additionally, my achilles tendons are perhaps in questionable shape. Why do I say all of this? Well, it's simple. The back judge has to RUN. Yesterday afternoon was my first varsity game at back judge and Dear Sweet Lord, I had to run. Granted, I was beating the ball carrier to the goal line on most plays and I'm not going to ever give up (which is probably why I have so many joint problems) but it was a challenge. The midday heat caused several players to cramp up and drop during the second half, a period of time which also saw both of my calves cramp up during a long run up the right side. I still kept up and grabbed the dead ball spot but DAMMIT. I can only hope the games I back judge from here on out are in the cool of the evening. I'm still having trouble walking this morning...
But Speaking of "Walking"...
My buddy Ray and I have been playing the golf quite regularly this summer. Some weeks back, we "graduated" from playing par 3 or executive length courses to playing full size regulation courses. This may not sound like much to you but if anyone were to tell me, even a year ago, that this would be the case, I would have laughed them off. Golf, though, is like a mind virus. When it gets hold of you, it gets you good. My dad was a PGA class "A" professional golfer when I was growing up. I, on the other hand, was the worst golfer you would have ever cared to see. He even deemed me "unteachable" at one point and, I have to say, that was probably a fair assessment. Now that I'm knee deep into loving golf, it's nice to have his advice at my disposal. I'm improving every week and, when I hit a snag, I can always ask him what the problem is and he'll have advice to share. The only thing that will be better is when he gets back on his feet and can come out and play a round with us. I can't wait for that.
Get On Board, Freaks!..
So this past Monday was Freak Train at the Bug Theater in Denver. Justin and I went up with the intention of performing and Collin tagged along to watch said performing. Pat Angello was there too (even though it took a little persuasion). Being August, it was the anniversary show (8th, I think) with special video presentations and such. Additionally, people were picked from a hat to be guest co-hosts througout the night. I was lucky enough to be one of them, although I ended up introducing Justin and then Pat and then having to run back stage to prepare for my slot. I did more card magic this time and, even though I got through both tricks (and they worked, of course, because I'm a spooky magical motherfucker), I'm never going to do magic at Freak Train again. 5 minutes is just not enough time. Hell, with patter and stuff, I could spend a whole half hour on one or two tricks. I hate rushing things, even if the trick works. I just don't like it. Of course, the vibe at the Bug that night was kind of in the toilet. I hate to say it, but this past Monday was the worst Freak Train I've ever been to. The crowd was sparse and hard to entertain. I tell you what, I'm glad it wasn't like that the first time I went or I likely never would have gone back...Anyhow, that's done. Time to think about next month...
So that's probably enough babblin' for right now. As always, thanks for stopping by...You kids have yourself a fine Labor Day Weekend now...
Labels: Freak Train, lame stories, misguided rantings