Tuesday, July 10, 2007
Viva Las Vegas 2007 - But We Just Got Here!..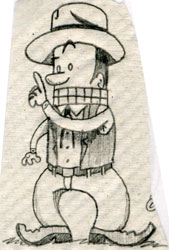 So yes, I'm "back in town," as it were. Well, to be fair, I've been in town since late Friday night but I haven't had an opportunity to post any sort of chronicle regarding our recent excursion to Sin City, USA until right about now. Indeed, you may be wondering why we would even think to take a vacation to Las Vegas, NV (again) during the month of July (again) when it's hot enough there to parboil one's innards if one is foolish enough to be caught walking around out of doors...The answer is a simple one, fool! It's cheap! Additionally, it's one of the few times of the year that my wife can take a real vacation being that she's a schoolteacher and all...Anyhow, this time out, we went with my parents because, while they'd been to Las Vegas before, they had never been to Las Vegas with the wife and I...I shall fill you in on some details regarding said trip in this, the first of a number of posts which will surely total greater than one...Ready for all of that? Good...Here we go...
Thank God For Rewards Points Vouchers...
With my father's comfort and my mother's proclivity to overpack in mind, it was decided that we would rent a minivan and drive to Las Vegas as opposed to fly there on one of them jet plane things. My father had mentioned that, since they had amassed an ungodly number of rewards points on their credit card, we could use their rewards points to get the vehicle, thereby reducing the out-of-pocket costs and making everyone just a bit happier. As it turned out, the only rental car company affiliated with the rewards program which allowed the use of rewards points towards the rental of anything larger than a standard car was Avis, widely known as the most expensive rental car company
ever.
Seriously, you'd think that their vehicles were made of some precious metal or were able to perform specific unnatural acts when you look at their prices. Regardless, it was Avis or nothing and so, many thousands of rewards points later, we found ourselves the proud recipients of $500 worth of vouchers to use toward just about any Avis rental we pleased. We ended up with a shiny silver Dodge Grand Caravan with the Stow N' Go Seating which, as it turned out, was the best possible vehicle we could've hoped for...
Mom!..They're Pushing Me!..
Right before we were scheduled to depart on the big Vegas road trip, my father was diagnosed with a very serious infection in his foot. This infection meant that, in order for him to join us on the already mostly paid for vacation, he would have to stay off of the affected foot as much as possible (read: all the time). THIS development meant that a wheelchair had to be rented so we could push him all over Sin City. All things considered, the wheelchair wasn't a huge problem...It was surprisingly easy to push around and, once we collectively got the hang of it, easy to fold up and transport. Outside of the fact that 90% of the people wandering around casinos seem to be oblivious to what's going on around them and elevators are not always immediately conspicuous, we got dad around and didn't have to sacrifice any of the show tickets or dinner reservations...
First Night In Town: Eat Shitty Food, Lose At Poker...
Another something which we found out right before we left was that Brad, one of the guys who we play softball with, was taking a vacation in Las Vegas right around the same time as we were. It was decided that, since Brad and I both enjoy playing poker, we would get together and play in one of the daily tournaments at Sam's Town, where we just so happened to be staying...Well, that's where WE were staying...Brad was at the Monte Carlo...Not at Sam's Town...Where WE were...Yeah...Anyway, because of timing, we were only able to sign up and play in the 11:00pm tournament on the Sunday that the family and I arrived in town. Prior to the playing, since our wits would have to be razor sharp and our eyes keen, we figured that we could get some dinner at the mexican food establishment inside Sam's Town called Willy and Jose's. The place advertises itself as both "authentic" and a "Zagat Award Winner." It also happens to be a restaurant which I had enjoyed about 7 years ago on one of our first Vegas trips. Long story short, I don't know what the Hell happened between then and now and I seriously don't know what the fuck kind of Zagat award Willy and Jose's could've possibly won but the food was absolutely horrible. I'd even go so far as to say that it was the worst "mexican" food I'd ever had the misfortune to try. Apparently the Zagats hand out their little awards like two-for-one coupons...I'll never trust any of their ratings or recommendations again...Horrible...
But I digress...
As we finished "dinner" and made our way to the poker parlor, Brad wondered aloud why he had to come all the way to Las Vegas to play poker with me. I then reminded him that he's been "conveniently busy" every time I host a tournament at my home. As a nice coincidence, Brad and I started at the same table in the tournament but, as the game wore on, it was obvious who's night it was...Brad took down several good-sized pots, busting 4 players along the way and eventually getting moved to a "better" table. I languished in short-stackville for a while after that, tripling up after a couple of decent hands at one point but, in the long run, not having enough chips to survive...I busted out midway through the 2nd round and noticed (as I left, shamed) that Brad was still going strong. I still don't know yet how he finished but I do know that he, like I, had a hell of a lot of fun playing in the tournament...The poker parlor at Sam's Town is nice and small without feeling crowded and the folks who deal the poker and run the room were nice and friendly. If you want to get yelled at and have no room to move, go play at the Sahara or the Orleans. You want to while away time, having fun playing poker in a non-threatening environment? Sam's Town all the way, baby...
This, kids, is only the beginning! Hell, it only covers our first DAY...More Las Vegas style updates will follow, containing such descriptatory delights as our lunch at the Burger Bar, dinner at Diego (a REAL high-end Mexican food place, fuck YOU, Willy and Jose's) and tons more...Additionally, stay tuned for reviews of the shows which I had the occasion to witness this time out...As always, thanks for stopping by...You kids have a fine Tuesday now...
Labels: get outta town, I eat food, lame stories, poker