Tuesday, June 19, 2007
Random Tuesday - Frieeeends...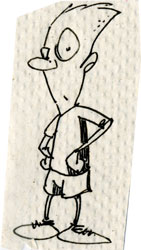 Hey there! Indeed, since you (whomever you may be) have seen fit to stop by my humble little blogsitething on this day, it is only fair that I should reward your effort with a post of some kind. Certainly, today's offering shall meet the minimum requirements for such things and commences NOW...
Well, maybe now.
The Question Being "Will Any Team We Play Be Any Good?"
So this past Friday was, of course, softball day...Well, softball
evening
to be accurate...Either way, softball occurred and, when the dust cleared, the team which the wife and I play on had picked up it's third win in as many games played in a most convincing fashion. Now, we're nowhere near a gold-level team and we play in what is considered to be a silver-level league but, to this point, we've essentially dominated the three teams which we've played. This is not to say that we're a BAD team, but our success begs the question "are any of the other teams any good?" Ideas which have been offered up include "the better teams signed up to play on a different field" or "earth's yellow sun gives us extraordinary powers" (my personal frontrunner). The real truth is likely more simple: the teams which we've played to this point are maybe in over their collective head. To be fair, these are teams which probably should have signed up for bronze but, for whatever reason, up to and including leagues being full or an error by their team organizer, found themselves stuck in Silver. The biggest problem with this scenario is that, by the time we face an actual silver-level team, we'll likely have picked up so many bad habits from destroying pseudo-bronze teams that...well...It may not end well for us...Regardless, we're 3-0 to this point in the season with
no rainouts
! Woo Hoo! I'll keep you kids posted as to how things go with the rest of the season (whether you want to know or not).
Golf Clubs - Not Just For Staring At Anymore...
So I was talking at work about a week ago how I felt that I needed to get out and "play some golf" now that the weather was all warm and stuff. Everybody's buddy
RayRay
overheard me say such things (mostly 'cause I was talking to him) and replied with "hey, if you go play, I'll go with you!" I asked him if he were any good and he reassured me that he wasn't, which makes us a fine golf pairing in the long run, as my skills at golf are not so much "skills" as they are "pathetic hindrances." One would think that I would be better at the game, considering the fact that my father, a former class A PGA professional, could teach just about anyone to play. Some time ago, however, he deemed me to be "unteachable" and I've been hacking shit up ever since. Anyhow, this past Saturday, my wife and I joined Ray at Cherokee Ridge Golf Course for a round on the par 3 nine. Long story short, it was a fun walk around the course but not a memorable round as far as scoring goes. I hit a few shots that I would consider "good" but I hit way too many that were nowhere near useful. Poor Ray seemed to save his good shots for when he least expected them, often overshooting the green on chips and pitches, seemingly unaware of his own power. All in all, though, it was a lot of fun to play without pressure and just hack it around. And yes, despite our limited ability, we DID play
"ready golf"
and we DID keep pace with the group in front of us. While you won't ever see me on the PGA tour, or any tour of any kind, I'm getting to where I like this golf stuff...I can't wait to get out and do it all over again...
The Grim Reaper Cometh...Kind Of...
I know that I've mentioned before that I get some strange requests at work. I've been asked to sing parody songs at meetings in front of most of the company. I've been handed a terrifyingly expensive camera and told to run around the building with said camera to create footage for a building tour. I've also been instructed to stand and sing in a phone booth for some sort of agency video thing. Don't get me wrong, I don't mind doing such strange things...After all, I'm a likely candidate for all things "strange" since
Collin
just isn't very outgoing...Anyhow, the most recent "strange request" I received was to portray the Grim Reaper at a birthday get together for one of our clients...Seems that the poor bastard is hitting one of those milestone ages (50, I think) and it was decided that ol' Death himself should pay him a visit along with cake, presents, cards and well-wishes. Who knows, maybe the Angel of Demise is slated to jump out of a large cake, possibly inducing cardiac arrest...Anyhow, while I was flattered to be considered to play such a role, I reminded the account executive doing the asking that Death is not traditionally short and fat, but tall, gaunt and imposing. I offered up some ready alternatives to play the part (I.E., people taller than myself) but I think my words fell on deaf ears. Lord knows what will come of all this...I may yet be playing the part of the Grim Reaper here soon...Yet another item, the status of which I shall keep you all apprised of whether you like it or not...
I've Found My 54th MySpace Friend...Twice...
As I mentioned on
last week's podcast
(what, you no listen? Please to do so), my goal with having a
MySpace page
was to be able to maintain 54 friends. No more, no less. This, of course, is due to the fact that 54 is a mystical and perfect number with special powers. it's...um...Also the number I wear when I play sports, has been since junior high...Seriously, though, MAGICAL POWERS! SPOOOOKY! Anyhow, I
did
achieve my goal of 54 this past week when I added Collin's daughter Jordyn to my roster o' friends. Now, this development doesn't mean that I cannot add any more friends. Far from it, in fact, because I do have what I call "filler friends," bands, comics and such which
can be dumped
in favor of someone whom I would rather have on my list. I know, it sounds callous to say "yes, you are my friend UNTIL SOMEONE BETTER COMES ALONG!" Muhahahahaha! Seriously, though, I doubt that my fillers even care if I live or die, let alone whether I dump them from my stupid MySpace page. As such, I made friends with the Belcher™ yesterday and, since the axe had to fall on someone, I dumped some guy named...Um...Skully...Or something. I didn't know the guy and he solicited me to be HIS friend in the first place so...Off you go. He was a filler, he is now gone, ironically enough in favor of someone who is really a "secondary filler." Damn right, I'll dump the Belcher™ if'n I come up against that 54 limit once again and have no more primary fillers to cut loose. Anyhow, though, if you kids are on the MySpace and you're NOT my friend yet...Whatchoo waiting for?
Be my damn friend already!
..
And that's just about all I can think of to share for today. As always, thanks for stopping by...You kids have a fine Tuesday now...Whether you like it or not...
Labels: indignities, lame stories, sports, tales of triumph