Thursday, June 28, 2007
Random THURSDAY - Tornadoes: They Spin Me Right 'Round (Like A Record, Even)...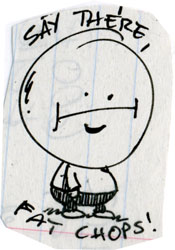 Well holy crapoli, it's Thursday! Indeed, at least for the last year or so, this would be the day where I would share my crack at an
Illustration Friday
topic (camoflauge this week, I think)
or nothing at all.
of course, this being my Goddamned blogsitething, I am allowed to twist the rules to meet whatever standard (or lack thereof) pleases me. As such, here comes one of them jumbled-up random style posts...Please keep your limbs n' shit inside the ride car at all times and please, remember that we'll be going
verrrry slooooww.
Here we go...
I Bet The Folks At The Sinclair Station Were Scared Shitless...
If you're like most folks who reside in these great United States of ours
(for my small handful of foreign readers, why not just pretend?! Pick a state to be from, we've got 48 PLUS TWO!
), among your greatest fears (suppressed or otherwise), is probably "getting swept up in a tornado." One of the nice things about living here in Colorado Springs, though, is that tornados are quite rare due to factors such as altitude and dry air. In fact, in my relatively short 33-year lifespan, I know only of a mere two tornados which have actually touched down in this area, both times in Manitou Springs (a small town directly west of us) and both times right smack on top of the Sinclair station on Manitou Avenue. Again, to recap: two tornados in 33 years, both of which destroyed the same Sinclair station. It's that fucking dinosaur, I'm tellin' you. Anyhow, this was pretty much the extent of our local tornado lore until yesterday when a particularly fierce storm barreled swiftly down highway 24 in the late afternoon, creating tornados which touched down in Divide, Woodland Park, Manitou Springs and then at at least two locations
within the city limits of Colorado Springs
, a very rare occurrence to be sure. Now, to be fair, these "tornadoes" are nowhere near as awe-inspring or fearsome as the tornadoes which raze entire towns in hapless states such as Kansas, Nebraska or Iowa. On the contrary, they're short-lived, laid back, f-half high altitude tornadoes which barely touch ground before dissipating. Still, mass destruction or no, it did make for an exciting afternoon...I'm particularly fond of bad weather and, because the agency I work at is perched up on a very tall hill, you can see what's going on with the weather in damn near the whole city from the parking lot...Hell, funnel clouds, lightning, wind and small hail pretty much halted our productivity at 4:47 yesterday as everyone stopped what they were doing and headed outside. It was pretty damn cool...
Roy Pearson Is Still An Asshole, But He's Also Now, Officially, A LOSER!..
As you've no doubt been aware, unless you reside under a rock (a rock with spotty internet access, but a rock nonetheless), there's a dickhead judge named Roy Pearson who sued his dry cleaners for $63 million U.S. initially and then dropped the amount to a mere $54 million (still U.S.) over one misplaced pair of fucking pants. I already wrote
a lengthy rant about this
which appeared on my humble blogsitething back in May. In it, I had said that my faith in the judicial system was waning BUT lo, it was restored to a point when the judge in the case ruled recently that Roy Pearson was entitled to
nothing
. The asshole was also ordered to pay the defendants' court costs. Now, when I read that, I was elated until I learned that "court costs" in this case are only the administrative fees which total around a paltry $1,000 (again, U.S.). I did read, however, that a motion to recover the Chungs' legal fees, now in excess of $100,000, will be considered in the near future. I can only hope that, in light of the significant negative attention that this case has brought upon the legal system as a whole and the obviously frivolous and abusive nature of the case, that a judgement will be leveled against Pearson for the full amount of the Chungs' legal costs. Hell, throw in some punitive damages as well, right? It's only fair, in my opinion, since Pearson is the one who forced the Chungs to hire counsel in the first place with his selfish and misguided abuse of the system. I also would like to reiterate my hope that Roy Pearson not only be removed from his position as Administrative Law Judge, but disbarred altogether and forced to work in *ahem* a dry cleaning establishment. Thank you. That is all.
You Learn New Things Every Day...Or At Least You Should...
So, in my daily work life, I am a graphic artist. I know that I've mentioned this fact before on my blog (this thing you're reading right now, just in case I wasn't clear). I think I may also have mentioned that, unfortunately, my skills as a designer to not extend to web design (which should seem ironic since you're reading this revelation ON MY WEBSITE). Web design was not taught while I was earning my degree (mostly because, at the time, the world wide web as we know it simply
did not exist!
Additionally, cell phones and calling plans were ungodly expensive at the time and I drove a car that ran on LEADED GASOLINE! OH DEAR LORD HOW THE HELL OLD AM I!?) soooo I never
really
got around to learning it. Oh, sure, I've picked up some basic HTML stuff from selling trinkets and snake oil during the early days of Ebay and, of course, in the day to day of maintaining this blog. That, though, doesn't even
begin
to mean that, if a client were to come to me and say something such as "buld me a website, beeyotch," that I'd have even the slightest idea as to how. All this is changing, though, due to a push by our clients here at the agency to be more web-present. Indeed, we're all in the process of becoming web design proficient. Myself, I've been going through video training on Dreamweaver (no, not that Gary Wright
piece of shit seventies song
classic hit, the web design software formerly by Macromedia, now of design software juggernaut Adobe) which, I was warned, might put me to sleep. I do have to admit that, despite my attempts to stay awake, I have been quite literally put to sleep by the training, So much so, in fact, that I've had to run it back more than once to see what I missed during nappy time. It's so Goddamned boring, in fact, that I was wishing I had it on my laptop at home about 4 this morning when I found myself unable to fall back asleep. I guarantee, that shit would've put me right out in no time...
I's Gonna Be Gone For A Short While Here Real Soon...
Indeed, it's about time for me to take another vacation. This time, the wife and I will be driving to Las Vegas with my parents to enjoy some foods, shows and table games. This fact, of course, means that posting (such as it is) will likely be light this coming week. I have made arrangements for a podcast to be posted on Wednesday whilst I am away but...Well...I wouldn't expect too much more than that until I get back into town...Now I know that this likely affects nobody but myself but...Well...Hey, look, it filled some space which would have otherwise gone unfilled and lonely. Take heart, little space! You now have WORDS to keep you warm at night!..
So anyway, that's about it for now. As always, thanks for stopping by. You kids have a fine Thursday now...
Labels: 'round town, lame stories, misguided rantings