Friday, May 04, 2007
Warning: Strong Language and Anger Ahead...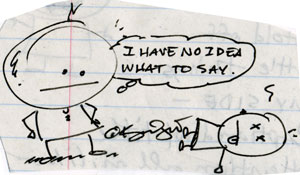 So here we are, collectively staring Friday down with an unblinking gaze and HEY! There's no photo or video blog to be found on my sad little blogsitething. Now, I could sit here and offer excuse after excuse about how I don't have a videoblog 'cause I didn't get to Freak Train in enough time to sign up this past Monday or how I don't have a photoblog because I'm a lazy bastard who seemingly has no regard for other people's feelings but that would all be idle chatter. And things such as idle chatter are not becoming to persons of action such as ourselves, now is it? With that in mind, in lieu of anything visually stimulating, I shall offer to you a poorly crafted rant based on a news story which I read earlier this week...
Judge Roy Bean Was Known As The "Hangin' Judge." Judge Roy Pearson? Known Simply as an Asshole...
So it seems that there's this dry cleaning business somewhere in our nation's capital (that's Washington D.C. for you kids not in the know) which is owned by Jin Nam Chung, Ki Chung and Soo Chung. Collectively, these people are known as "the Chungs" and they hail from South Korea. It seems that two years ago, in May of 2005, some asshole lawyer named Roy Pearson was promoted to the position of Administrative Hearings Judge. Wanting to look his best, he brought several suits for alteration to the Chungs' establishment. When Judge Dickhead returned two days later to claim his property, one of the pairs of pants from his pile of suits could not be found. When the pants were deemed to be missing, the judge demanded payment for the full price of the suit from the Chungs, an amount in excess of $1,000. A week later, the Chungs were able to find Judge Pearson's missing pants and refused his demand of payment. After all, his pants were found! Hooray for missing pants which are no longer missing! The prodigal pants return! One would think that the judge would be happy to have his pants, but no. The greedy asshole merely wanted money. Being that he's in a position to abuse the legal system, Judge Roy Pearson initiated a process to do just that - He sued the Chungs.
No, seriously...You read that correctly...Instead of going and picking up his pants, he SUED the Chungs.
Now one would think that only the best and brightest become lawyers and then judges in our society. Those with a drive and a thirst for knowledge beyond that of mere mortals end up persevering in their pursuits of legal success. Of course, if one thought that, one would be wrong. The sad truth is that there are more greedy assholes with distorted senses of entitlement in these sorts of positions than not. You see, Ol' Judge Pearson began to strongarm the Chungs who offered varying settlement offers to make him go away but even when their offer reached $12,000 FOR ONE FUCKING NO-LONGER-MISSING PAIR OF PANTS, Pearson the Prick refused and moved forward with his lawsuit to the tune of $65,000,000 U.S.
No, I didn't mistype anything...This jackass judge is suing the Chungs, owners of a
dry cleaners
, for the sum of sixty-five MILLION dollars...
For starters, Pearson is going so far as to say that, because he no longer wishes to do business with the Chungs, the closest cleaners to his house, he's asking for $15,000 to rent a car every weekend and drive to another dry cleaner. He's also twisting the Washington D.C. consumer protection law to "fine" the Chungs $1,500 per violation, per day. See, in Prick Pearson's estimation, they've wronged him 12 ways for 1,200 days (and counting) multiplied by three (Jin Nam, Ki and Soo, in case you're keeping score). You see, the Chungs have two signs hanging in their establishment. One reads "Satisfaction Guaranteed" and the other reads "Same Day Service." Pearson, of course, claims that these signs amount to fraud since he was nether satisfied nor did he receive "same day service." While one cannot dispute that Pearson didn't receive his pants on time, I cannot believe that anyone in their right mind would simply refuse to pick up their pants once they are found UNLESS THEY ARE A GREEDY, LITIGIOUS FUCK (like Roy Pearson) WHO'S JUST OUT LOOKIN' FOR A BIG SCORE (like Roy Pearson). These things really get to me for a very personal reason...I was sued 4 years ago for an accident on a softball field. Even thought that eventually was settled out of court, the whole process left me completely disenchanted with the legal system and made me hate lawyers and their ilk. You see, if some asshole gets it in his or her mind that they want to sue you, for whatever reason, all they have to do is visit one of the many lawyers who's commercials you see on the television. That lawyer will then go through the process of
ruining your life
serving you with papers which mean that you have to now defend yourself which puts you out money and time. Frivolous lawsuits are clogging the legal system and are truly ruining good people's lives. Lawyers are getting fat off of these sorts of baseless claims on both sides of the fence, even if they position themselves as the "good guy" and come out against them.
Look, when it's all said and done, this asshole Roy Pearson is still a sociopath in a position of inordinant power. I can only hope that, when his judicial appointment comes up for review, this gross abuse of his power is considered and that he is not only removed from his position, but disbarred. There's no room in society for individuals such as Roy Pearson to roam free, wielding legal power like some sort of shotgun as he attempts to compensate for his microscopic genitalia. Hey, I'll say it again: FUCK YOU, Judge Roy Pearson. FUCK YOU TO HELL.
I have learned one thing from reading the news reports of this incident, though...If I ever open a business, the only sign I'll hang will read simply "We reserve the right to refuse service to lawyers and judges." Of course, that would probably get me sued all over again...
Labels: indignities, lame stories, misguided rantings