Thursday, June 07, 2007
The Makin's of a Shitty Week...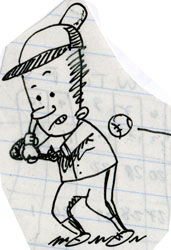 I know the answer to this question before I even ask it, but I still feel compelled to pose it to you...Have you ever had a week where shit just don't go right? Of course you have and, if for some strange reason you haven't, believe me...Your week's a'comin'. Anyhow, yeah, shit just ain't goin' right for me this week. well, now that I think of it, the week didn't start out bad, but this middle section that just passed sure sucked, I'll tell you that. Things really started to go South for me on Wednesday...There was a huge windstorm what blew through town, wreaking havoc in the way of downed trees, fucked up fences and power blinks. It was that last item I mentioned which hit us at work and, while I didn't initially think that I had lost much in the way of work (you know how it is, you haven't saved whatever you've been working on and *BAM*, out goes the power) but, as I waited for my work 'puter to restart following the 3rd or 4th power surge, I realized that I was more than a bit screwed. For you Mac people out there, I got the equivalent of what them goony Windows folks call "the Blue Screen of Death" in the dreaded "folder what bears a question mark." A
blinking
question mark, no less...Ten times as spooky, if by "spooky" I mean "repetitive and fucking frustrating."
Anyhow, I know that at least one of you is asking "so what does THAT mean?" Well, simply put, it means that my work computer can no longer recognize it's hard drive as a startup disk. This, kids, is quite bad. So bad, in fact, that a real-life equivalent would be if, say, you were to get struck by lightning...Not a LOT of lightning, just a little...MILDLY electrocuted but, ta-da, after the strike, your body can no longer find a connection to your brain...So yeah, my 'puter is in a coma. Long story short, even though I figured I hadn't lost much in the way of work, I was dead wrong...
Everything
that I had worked on that day was gone, along with...Well, along with a lot of stuff, including some text files which I use for the ol' blog which I hadn't got around to bringing home and placing on the ol' MacBook (which, of course, I'm using to type up this pathetic post). We do have a very capable Mac tech guy on call, so to speak, and he has done yeoman's work over the course of the last two days to salvage as much of my data as is possible. Initially, when he asked me what I needed most, I said "just my preferences and shortcuts and stuff." Of course, after a day of working on a foreign machine (because, hey, the ads have to go out, regardless of my individual troubles), I amended that statement the next time I saw him to "please get me everything! I need EVERYTHING!" Quite luckily, our backup had run successfully the night before the big FUBAR, so I was able to recover most of what I had been working on. Anyhow, yeah...I know it sounds like I'm a bitchy prima donna, but...Well...hey, I just want my computer back...Luckily, the tech guy told me that such things should happen soon...Before the weekend, even...
So that's why you kids get a whiny shit post instead of a phrickin' photoblog or...well...Anything that
isn't
a whiny shit post...Outside of the trouble at work, it's been a standard week without much to report. So much so, in fact, I just spent like...5 minutes sitting here on the floor in front of the coffee table TRYING LIKE HELL to come up with something to type. Dammit...
Anyhow, as always, thanks for stopping by...You kids have a fine weekend!
Labels: 'puter stuff, indignities, lame stories