Wednesday, May 30, 2007
Phoenix Recap 2007 - Shit It's Hot Down There...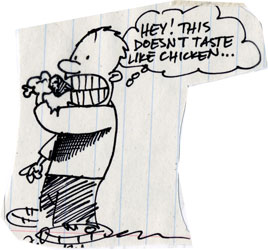 And yes, I'm back. Back in town. As you may have already figured out (if you're one of those "observant" types of people), there will be no podcast episode posted today. The reason for this is that there is no podcast episode. Didn't have a chance to record one, I was all "out of town," dontcha know. Perhaps, if you're all good little monkeys, we'll slap one together for tomorrow that you can then download and listen to and (hopefully) enjoy and stuff. Of course, that also may not happen so don't get any hopes up. In fact, it may just be that next week (our year anniversary) will be the next 'cast. Hell, we'll all just have to wait and see. For now, on with the recap of what's been going on for the last 7 days of my life...
Jesus, That's A Long Drive When You're Already Tired...
So as I mentioned, the wife and I drove out to Phoenix to play in the
20th annual Arizona Hockey Classic
, me on a team in the Grand Canyon division and she on a team in the Women 3 division. Due to scheduling conflicts beyond our control (specifically the fact that if my wife were to take a "sub day" on the last day of school, the district would dock her a day's pay), we couldn't get on the road until 'bout 3:30 pm (mountain time) on Thursday. We intended to drive the 12 hours straight through to Scottsdale and arrive around 2:30am (pacific time) 'cause we're optimistic and such. On top of that, I personally had intended to make it as far as, say, Grants, New Mexico before the wife had to take over the driving ('cause I'm as optimistic as I am crazy). Long story short, we
were
able to do the entire drive as planned, but not...well..."as planned." I was only able to make it as far as Las Vegas, NM before the wife took over, making it as far as Casa Blanca, NM where I took over and drove until I could drive no more at Holbrook, AZ. I then slept as the wife made it all the way to Munds park, AZ. After gassing up, I took us the rest of the way into the expansive Phoenix metro area as the wife sawed logs, dead to the world. As I said, it was a long stinking drive considering that we were both pretty tired to begin with. We both admitted later that we knew it was "time to switch off" when we found ourselves going way too fast and feeling just a bit "out of control," but doing nothing about it other that passing every car we could see. But anyhow, back to the whole arrival thing...
Not Sure What Good It Does To Call People Who Don't Even Listen...
As a package deal in conjunction with the hockey tournament, the wife and I were booked in a villa suite at the
Scottsdale Plaza
resort. Just because I'm one of those nervous sorts of people, I had called the hotel earlier in the week to confirm our reservation details and to advise them of our (very) late arrival. As it turned out, it was a good thing that I called - the guy who made the reservations had "messed up," as he told me later, and not included Thursday as one of our booked nights, even though the wife and I had paid for it. Because the room was booked under the guise of a "group reservation," only David Cohen (the aforementioned "guy"), who runs California Hockey Productions, could make reservation changes. As such, after calling him and hearing an apology, the reservation was changed. I then called the hotel back, confirmed that the reservation was correct and advised them
again
of our late arrival, stating
specifically
that we would be in 'round 3:00 am on Friday morning. "That won't be a problem, sir," I was told. Fast forward to that time, Friday morning when I staggered into the front lobby of the Plaza and was told that, because we never showed up, I had been placed in the "no-show" pile. Fat lot of good it does to call, I realized. Regardless, after a few minutes, the confused desk trainee (with the help of the night manager) found my reservation and gave me my room keys. We were booked in room 924, a villa suite at the back end of the complex. After checking the handy map they gave me, I drove around to the little parking area that bordered the villas and started to unload. As I opened the front door of the suite to dump off the first load of stuff, I was met with a most unpleasant odor...Despite the notation on both the wife's and my reservation thing, we had been given a smoking suite...I immediately called the front desk and advised them of the error but was once again met with "we can't do anything for you, it was booked and assigned as part of your group. Only David Cohen is authorized to make changes." The hotel promised to contact him first thing the next day, but that was nothing more than a lie to get me off of the phone. No call to Cohen, no halp, no nothing...We were stuck in a lousy, stinky smoking suite.
Nasty Odor Aside, The Hotel Was Top-Notch...Especially on the Price Scale...
Despite the fact that we didn't get the non-smoking villa we had requested, I have to say that the Scottsdale Plaza resort is quite the place. Situated on 40 acres, the Plaza boasts over 400 rooms (which include almost 200 suites), five (count 'em,
five
) swimmin' pools, lighted tennis courts, fitness facilites and is within walking distance of restaurants such as Ruth's Chris Steak House and Roy's Hawaiian Fusion. It's also a place that struck me as one that is geared toward the well-heeled, albeit poorly prepared, traveler. The Plaza's intention of a stay at the Plaza is just that: you
stay
at the Plaza, eating room service or at the poolside cafe or at their finer dining establishment called Remingtons and you eat snacks from their 800% markup snacky basket and drink from their 1000% markup booze cabinet. In addition, you're invited to spend monies on in-room movies and video games, the in-room "sun kit" (you know, just in case you forgot sunscreen), their exclusive (in-room) embroidered Plaza robe and, oh yes, $10.00 per day for access to the (in-room) internets. It's insane and, hey, just for the privilege of being able to access things like your (in-room) safe and the (not in-room) racquetball court and the pools and the
parking
, a $15.00
per day
"facilities charge" is added to your bill
on top
of whatever exorbitant amount you're paying for your room...Or suite...Or whatever...Considering the fact that we were in town to play multiple hockey games, I didn't figure I'd need the fitness facilites but, all things being equal, it was nice to have the space of the suite to spread out wet hockey gear to dry for play the next day. In the only form of revenge which was available to me, I replaced the foul stench of thousands of cigarettes with the pungent bouquet of sweaty goalie pads. Take that, Plaza...I stink
way
more than you...
So You Said You Were There To Play Hockey...What About The Games, Man!?
The first game for my team was an early one. In fact, it was officially the first game played in the entire tournament, at 4:30 pm Friday at what used to be Polar Ice in Chandler, AZ. Gametime was so early, in fact, that some of the guys on the team barely made it due to their flights having been delayed by weather in Dallas. One of our centermen even had to dress in a taxi on the way to the rink. Our first opponent was the San Jose Subzero, a team which had been the champions one division lower just a year prior. Once the game started, though, it was obvious that the Subzero weren't going to be much of a challenge. My team (called the Colorado Springs Posse, only because we were wearing old Pennsylvania Posse jerseys and, hey, we're not from Pennsylvania) kept the puck in the offensive zone most of the game and, even though I kind of half-assed it, we won 7-2. Following the game, most of the team had dinner at an Asian Fusion restaurant called Thaifoon (I highly recommend, by the way) and then it was off to Arcadia Ice Rink to watch the wife's team play an 11:40 pm game against the California Polar Cats...Sadly, mostly due to the efforts of one big damn bitch (she was bigger than me) on the California team, the wife's team lost 2-1 in overtime. As will soon be revealed, though, it turned out to be her team's best chance to get a win in the entire tournament...
---
Saturday found my team playing at Arcadia in the early afternoon against the Los Angeles Ice Age, a team that looked "scary fast" to some of the ladies watching and one that, as it turned out, we matched up quite equally with. So equally, in fact, that their fat goalie wears number 54 just as our fat goalie (me) does. The game turned out to be one of the exciting and hard-fought variety, one which we were able to win 3-2 because, unlike the day before, I
didn't
"half-ass it" and made several saves. At that point, it almost seemed like the Posse could be unstoppable as long as I kept playing well and the rest of the team continued to put good pressure on the opposing goaltender. The girls played later in Chandler and, long and painful story short, were again defeated, this time by the San Jose Burninators (named, of course, for Trogdor the Burninator). The wife played another strong game on defense but, as is usually the case, one player can't change a bad team's fortunes...
---
On Sunday, the Posse had to play quite early. 9:30 am early, to be exact, again at Chandler but this time against the Riverside Wolfpack, a team which we knew that we could beat due to their substandard goaltending (a fat, nearsighted guy named Sanchez who I saw the day prior walking around in a shirt which read "snuggles," wearing (I swear), one of those "plushy" character backpacks). On top of that, if we
did
beat them, we would receive a bye into the championship game on Monday afternoon. Long story short, too many of the retards which make up the Posse stayed out damn near all night on Saturday drinking, partying, etc. and were completely ineffective during the game on Sunday morning. Many of the players who skated great just a day before were reduced to slobbering and falling down, losing the puck and giving the other team chance after chance which they, of course, capitalized on, defeating us 7-2. As can be imagined, I was more than a little pissed off. When we found out later that we'd have to play that same team in about 6 hours in a semifinal game, I began psyching myself up. I told the rest of the team to "fucking sober up" and that we could, in fact, beat Riverside if we could just get more than 5 shots on net. Before our semifinal game, the ladies played a 4 o'clock game at the Alltel Ice Den. I was able to watch two periods of that game before having to run off to Chandler to play the Wolfpack. In that do-or-die game, I held up my end of the bargain, holding a shutout well into the second period and only relinquishing 3 total goals to a team which was once again allowed to run wild. My "team," however, couldn't come through for me and hold up
their
end. The Posse skated a little better than they had in the morning but halved their earlier goal total, posting only one en route to a bitter defeat which sent the Wolfpack to the championship game against the Ice Age and sent our dumb asses packing. I also learned after my game that my wife's team had, in fact, lost their 3rd straight game, this time against the Tucson Chilly Peppers (yeah, "chilly." Brrr. I get it. Shut up) and were also done for the tournament...
Is There A Bright Side To Being Losers?..
All tolled, the Colorado Springs Posse finished in third place out of six teams in the Grand Canyon division. Additionally, not playing in the championship game afforded the wife and I the opportunity to get the Hell out of town earlier than expected on Monday, something which I would have gladly traded for the aforementioned "shot at the title." While a large number of the members of my "team" came down to party and drink, I had come the nearly 900 miles to Phoenix to fucking WIN hockey games. I played my ass off for them and they couldn't return the favor to me. I found myself missing the Sharks (my regular team), especially while playing the Wolfpack, I found myself saying things like "Kenny would have gotten to that puck" or "Ryan wouldn't have made that mistake" and, best of all, "Don or Schultz would've CRUSHED that fuckin' guy." I was run into and knocked around by every team we faced and the weak-ass roller hockey fucks on the Posse could do nothing about it, leaving me to doll out my own retribution. The Sharks would've never let things go that far. The Sharks also understand how to win a hockey game against a good team, a point which was illustrated cleanly last night as we defeated the Rampage 13-2 in my first game back in town. If I play in another tournament, I want it to be with the Sharks, not the Posse. Does that make me sound like a whiner? Maybe. Is it the truth? Absolutely...At least I won't have wasted money and time if I play with a team that knows how to get their shit together...
Split Up The Drive Home - Something We Should've Done To The Drive Out...
Knowing that we'd be pretty well tired driving home, I had procured a hotel room in Albuquerque, NM for Monday night.
extremely
long story short, don't EVER stay at the Days Inn Midtown on Menaul in Albuquerque. The place in an absolute shithole. I was afraid to touch anything...Dirty, dirty, dirty...
So hey, despite the fact that I tried to pack
way too much
into this one post, that's about it. As always, thanks for stopping by - you kids have a fine Wednesday now...
Labels: get outta town, hockey stuff, indignities, lame stories, misguided rantings, sports, tales of triumph