Tuesday, April 17, 2007
Random Tuesday - Bad Weather! BAD!..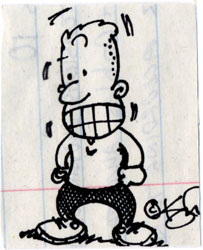 Crap, look at that...It's Tuesday already and I haven't posted a single damned thing since this past Friday. Granted, I could just say "hey, at least I posted on Friday," but you and I both know that such things just aren't going to "cut the mustard," as the kids say. As such, here comes one of them "retrospectives" which contains doin's and stuff since this past Friday. Get ready. Here we go.
If The Weather Keeps Up Like It Has, We'll NEVER Play Softball...
Indeed, for the past two weeks here in Colorado Springs, the day called "Friday" has been pretty crappy as far as weather is concerned. Two Fridays ago, when the Spring softball season was
supposed
to begin for the team that I play on, the temperature was 'round 20° with wind and freezing rain. As you can well imagine, those games had to be postponed and tacked on to the end of the season. Continuing the trend, this past Friday, which would have also been a day to play the softball, we had snow (a pretty typical Springtime occurrence 'round these parts). As such,
those
games also had to be put off with the promise that they'd be played
eventually
. At this point, though, the Park and Recreation folks are surely running out of days with which to fulfill said game playin' promises. Either way, it'll surely be nice if we get to play
this
coming Friday. If not...Well...I
guess
we could wait until Summer...Hell, it looks like we may HAVE to wait until Summer...
Making Things Look Pretty Can Be Dangerous Work...
So the wife and I (well, I should really say that it was the wife's idea) decided to paint our bedroom and put up a wallpaper border in an effort to make things look...well...Less like crap...Anyhow, this (like most projects) turned out to be a bit of a hassle, what with the whole moving stuff around and still needing to be able to sleep somewhere...Anyhow, over the weekend, we finally got around to the wallpaper border step (one of the last steps, just so's you know) and, in a random moment of clumsiness while measuring out one wall for the wallpaper application, I tripped over the cord of my wife's alarm clock and landed on the bedframe, taking a rather large chunk of meat out of the
bottom
of my left foot...Strangely enough, despite the large gash and the significant pain (and obvious hindrance to walkies), the wound never bled...So now I'm faced with another quandary: are my feet really
that
calloused, or am I experiencing circulation problems? If any of you kids reading are real, no-kidding doctors, um...Should I be worried?
Can You Really Take A Class To Become Funnier?..
So since the wife was going to be off playing the Bunco on Sunday evening, I decided to check out the stand-up comedy workshop at the comedy club here in town. Now, I'd been vaguely aware of this thing for...Well, for years now, but never actually got around to being part of it. That is, of course, until this past Sunday...I have to say, it's not a bad little workshop, the cost is a mere five dollars which gets you about an hour and a half with a real working standup comedian and a couple minutes stage time for evaluation in front of the (itty bitty) class. That same aforementioned five bucks also allows you to stick around to watch the real show later in the evening. Including myself, there were 4 people who showed up for this past Sunday's class and, I have to say, I found it not only helpful, but extremely enjoyable as well. The best part of the night, though, was sticking around to watch the real comedians work...It'd been several years since I'd been to a real comedy club for real live comedy and man, was it fun...I have a feeling that I'm really going to look forward to Sundays from here on out...
So there's all that...For now...Just in case you kids were hoping for a little something more from me today, well...Sorry...I do have a new post up over at Collin's
Spam-A-Palooza
site which didn't turn out too bad...You could go and check that out if you'd like...And hey, don't forget - tomorrow is Awesomecast day!..Until then, kids, you all have a fine Tuesday...
Labels: Bad Stand-Up Comedy, indignities, sports