Friday, April 27, 2007
Friday Four-Fer - More Lack of Motivation...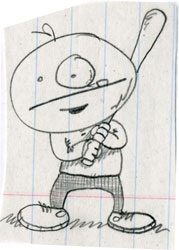 Hey, you know what? Yeah, you're right...It's Friday all of a sudden. You know, after being deathly ill and stuff, I really wasn't able to find the time to gather up stuff to make even the tiniest of photoblogs or (God forbid) a videoblog. Now, just because I'm the type to feel guilty for no good reason, I am going to post something. If you kids remember some of those "unmotivational posters" which I've posted before...well...You're about to have more to (not) remember. Four of them, in fact. And after you check them out, you'll probably realize pretty swiftly why I hadn't shared them up until now. Anyhow, since I don't have anything better, here we go...
clicky! You can READ 'em if'n you do!
---
---
---
So there you go...A four-fer...Um...Yeah...We're done here...You kids have a fine weekend now...
Labels: Phun With Photoshop, spoof posters