Thursday, June 10, 2004
I've Never Even BEEN To Jamaica...
But I LOVE "Jamaican Style" ginger beer. Anyway...
I've already
shared
some of the
drawings
that I did when I was younger with you good people. I was looking over some of these earlier because I'm in the process of setting up a
Cafe Press Shop
like
Collin did
and I was looking for some "product inspiration." There're only two items in my store right now, but that's because I'm going to really buckle down this weekend and put some thought into it. And put more stuff up. NOT THAT I EXPECT ANYBODY TO BUY. Just knowing that it's there makes me smile. I mean, when I
said
I'd be selling Handy Bastard® Mesh-Back Caps, I wasn't lying...
anyway, back to the reason I'm posting. OLD DRAWINGS! Yes...
my Sister
found a stack of drawings, there were characters that I drew when I was younger, yadda yadda...I present to you one of these characters. This piece is most likely circa 1988...It is JAMAICA MAN...Er...Mon...
Whatever. Just click it, it'll get bigger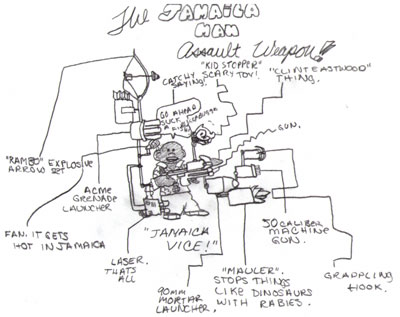 I'm particularly fond of this little drawing for a few reasons...Firstly, the "Kid Stopper." It shows that Jamaica Man is prepared for any task, great or small. Also, the "Mauler." You must be prepared to fight...um...crime or something BY ANY MEANS NECESSARY! Also, the "Catchy saying" and the fan. Anyway, there's another peek into my mind from somewhere around 14 years of age. I hope you've enjoyed it.
Also, for homework, practice saying "Go suck a fish, mon" in your best Jamaican Accent. It's fun!
Labels: cartoons n' stuff, me roots, random drawings