Friday, November 09, 2007
Phrickin' Photoblog AND Vaunted Videoblog Phriday - Meet Baby Max...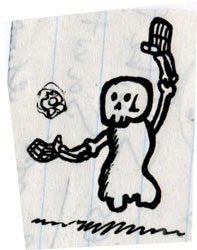 Lo, it is Friday and...um...stuff is...uh...good...Anyhow, look. It's Friday and I'm about to hit you kids with another one of those post-style things...This week's photo/video blog is slightly special, though...Yesterday, my wife had the detailed ultrasound to see how our not-yet-born son is progressing in his growth. As it turns out, Baby Max is doing just fine. As it ALSO turns out, CSHP (where the ultrasound was performed) has a bitchin' ultrasound setup which enabled the operator to burn a CD with some of the pictures and even VIDEO! No shit...So anyway, I'm going to totally go "overbearing parent" on you kids and force baby pictures on you...Ready? good, here we go...
clicky, they get all big n' stuff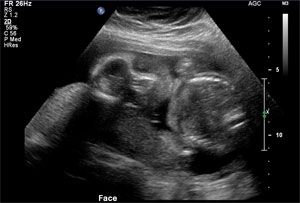 Is it just me or is it just downright disconcerting to see your unborn child's
skeleton
when you're looking at an ultrasound of them? Just. Plain. Creepy. Anyhow, here is Baby Max staring you down. Well, at least that's what the guy said. He said "this is the face" and he typed "face" on the picture. I have to trust him, he's a trained professional and I'm just...well, I'm just not...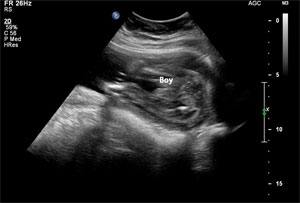 And speaking of "taking his word for it," somewhere in this picture is a penis. I have it on good authority that said penis is in the vicinity of the word "boy" there on the picture. So...Yeah...There you go...Good thing, too, I'm kind of attached to the name "max" but "maxine" sounds like an old, used-up barfly who smokes all day and drinks wine coolers and tries to seduce the mailman when she's not off vomiting blood. Or something. No offense to you upstanding, forthright Maxines out there...Not your fault you were cursed with a shitty name...Anyhow, moving on...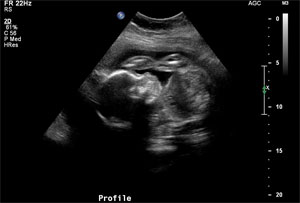 This here is a good profile shot of my kid that isn't too marred by the whole creepy skeleton factor. Looks like a halfway decent baby...
And like I said earlier, the disc we received contained 4 short video clips from the ultrasound, two of which looked...well, enough like nothing that I didn't use 'em and the other two...Well...See for yourself...
So that's that...As always, thanks for stopping by. You kids have a fine weekend now...
Labels: Baby max, Phrickin' Photoblogs, vaunted videoblogs