Thursday, July 26, 2007
Phrickin' Photoblog Phriday - That Sure is a Long Way Down...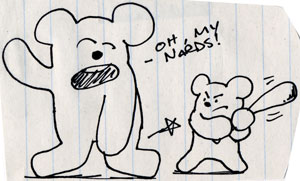 Hey! Hey! Hey! Remember like...Last week when I was all like "I'm going to be blogging more, I promise, blah blah blah, I'm going to post a recap of my Vegas trip, blah." Remember that? 'Cause I sure do! I also remember not even coming CLOSE to doing any of the things I said that I would...As such, you can definitely count yourself among the few who have seen fit to even come back and take a look at my nearly barren blogsite thing, populated only by lonely podcasts and the occasional photo display...And speaking of photo displays...
Last weekend, after literal months of dropping hints that she wanted to go, I took my wife to the
Royal Gorge
which, if you're not familiar, is the world's highest suspension bridge and is located only about an hour south of where we live. Being the diligent sorts of pseudo-tourists that we are, we brought a camera to chronicle all the sights. This week will be part one of two of our trip to the Gorge...Heck, let's get started, shall we?
you are here. This means that you are at least remotely "web savvy." Do I even NEED to add the bit about clicking the pictures to make them bigger? Hmm? Oh, shit, I just did anyway. Dammit...
What better place to start when you visit a tourist trap than the visitor center, eh? seriously, I wouldn't really know, we didn't go inside...I just snapped this while I was waiting for the wife to get out of the bathroom. Observe the odd seventies architecture and the heavily routed signage. Indeed, it's being greeted by things such as this which leave no doubt that you're about to have a fine time...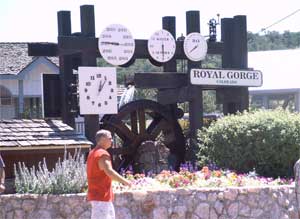 Another item which I photographed while standing outside the restrooms is this thing. It is, in fact, a water clock, able to discern the time of day, the day, month and even year through the magic of water-driven kinetics. Notice that it's not really a hot attraction at the park. Observe especially how the burly fellow who wandered into the shot pays the water clock no mind. Poor, sad water clock...I'll be thy friend...
Well...On second thought. No. No I won't...
One of our first stops (other than the bathroom) when we got inside the main gate there at the park was an observation deck which overlooks the gorge. I'm not sure that this picture illustrates effectively enough just how fucking high up you are, looking down at the Arkansas River (seen here). But yeah...It's a long way down...
This here's pretty much what the bridge looks like as you approach it from the north side (mostly because IT IS the bridge seen from the north side of the gorge). So yeah, not the world's LONGEST suspension bridge, but hands down the world's HIGHEST (in elevation). Oh yeah...When you're walking on it, it sways. A lot...
Here's the wife, standing bravely at the north end of the bridge as we ready ourselves to cross it on foot. As you can see from the sign behind her, motorized vehicles are allowed to cross the bridge along with the foot traffic and...Well...Considering that the bridge floor is made up of what appear to be railroad ties and you can see through the cracks to certain doom below and the whole thing bounces and sways and when cars or motorcycles go by it sways and jumps EVEN MORE...well...Anyhow, that's the wife at the north end of the bridge...
So, fast-forward to the other side of the bridge, here I am, relieved to have made it to the South side of the Royal Gorge intact. Seriously, I know that the bridge has stood for many years and I know that it's been renovated as recently as the middle 1990s and I know that it's safe but...Well, you just can't help but let them thoughts creep into your head, especially when you reach roughly the middle. You know those thoughts...The ones that say things like "is today the day the whole thing falls apart?" Answer: no! It wasn't the day! Yay me!
So here's a shot of the bridge from the south side of the gorge. Quite a feat of engineering, really...
Sometime in the 1990s, this attraction was added to the park. It's called the "Sky Coaster" and it sends as many as four harnessed-in individuals flying out and back and stuff. Now, I'm sure you've seen these things at carnivals and at theme parks and thought "hey, that looks kind of scary." You really can't fathom how scary this one is, though, especially because what you can't see in this picture is that while the people are doing their "flying," they're going out OVER THE FUCKING GORGE, a several-hundred foot drop and then coming back...Just plain scary...
So there you go, kids...Part one of two of pictures from our recent excursion to the Royal Gorge right here in southern Colorado. As always, thanks for stopping by...You all have a fine weekend now...
Labels: get outta town, Phrickin' Photoblogs