Thursday, July 19, 2007
Phrickin' Photoblog Phriday - Abby's Triumphant Return...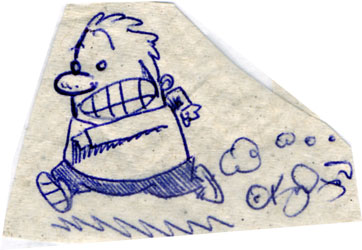 First off, I guess I should apologize for my overtly lazy ways. Indeed, I have been a bit lax as far as posting is concerned but...well...Look, to be honest I still haven't gotten used to having to do ALL of the posting prep work at a computer other than the one I sit at for 9 hours or so while I'm at work. Frankly, once I get home, there's stuff to do other than "get a blog post all done up and posted." Yes, I know that I left the Las Vegas recap hanging with no clear end in sight. I do plan to remedy that situation as soon as I can. Not TODAY, mind you, but as soon as I can. Seriously. For now, enjoy these few snapshots of my parents' cat, Abby...
click the pictures! They get HUGE!
Playing the role of "Jungle Cave Cat," Abby lurches from her lair and strikes with lethal accuracy at her prey (that would be you, just in case you were wondering). Not to worry, though...She's missing front claws so it'll probably just tickle. Lethally accurate tickling, but just tickling nonetheless...
Oh, hi there. And who might YOU be? I shall remain here at the top of the stairs until I either desperately need something which I cannot provide for myself or until I hear the treat container shaking. Outside of that, you are invited to go about your business. Good day.
I'm not looking at you. Indeed, you can call my "name" all you wish but I shall not respond. I am, in fact, busy. As you can plainly see, I'm locked in a staredown contest with this strikingly handsome cat immediately to my flank. I...I can't seem to move my gaze elsewhere...
Ok, fine...I shall look at you but only for a brief period of time. That other cat better still be there when I turn back around, though, or there will be HELL to pay. Mark my words...
You there! Stop what you're doing and give my belly a thorough rubbing! No, it's not a request, it is a COMMAND. ON YOUR KNEES! Also: get that scratchy thing I love so much...
On second thought, I have a cleaning scheduled. You are cordially invited to remove yourself from my presence until such time that I see fit for you to come around again. Oh yes, please to not forget the scratchy thing at that time. It pleases me greatly...Thank you.
So there you are, kids...Pictures of a cat for your viewing pleasure. As always, thanks for stopping by...You all have a fine Weekend now...
Labels: Cat Pictures, Phrickin' Photoblogs