Friday, June 15, 2007
Phrickin' Photoblog Phriday - 'Round The House n' Stuff...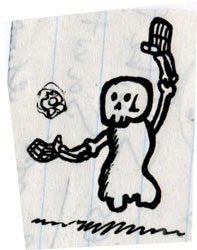 Hey! kids! It's Friday! Of course, this fact means that it's time once again for a Phrickin' Phriday Photoblog! No, seriously, why would I lie about something like that? Jeez, you act like I've been slacking with the photo displays recently or somethin'...Anyhow, this week's theme is...um..."Random," really. And since I know that you're probably anxious to get this over with, here we go...
click 'em! They'll swell up as if they were smacked with a baseball bat or a pipe or something...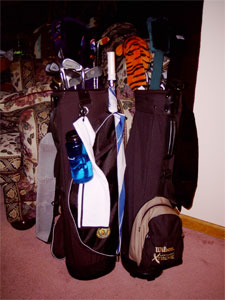 This here is a picture of the golf clubs which belong to myself and my wife, respectively. They're out in the living room (and eager to have their photo taken) because I had recently finished cleaning some of them up in anticipation of a golf match with
Ray
this coming Saturday. As you can see (if you click to see the closeup), the wife's bag is the "CarryLight Xtreme." That's all well and good, but my bag is the Highlander. The Mutha' Fuckin' HIGHLANDER! Yeah! (Actually, I don't know if that's cool or not...But hey, try it out yourself. Wherever you are, shout the phrase "THE MUTHA' FUCKIN' HIGHLANDER" and see if it doesn't make you feel next to awesome).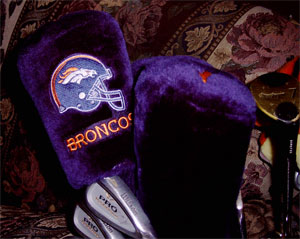 Here we see a close up of my stylish, Denver Bronco-themed headcovers. Indeed, how can a headcover possibly be better than this? Well, now that I think of it, I guess that greasy, non-Bronco fans might believe that
something
could be better...But seriously, they'd be wrong. Misguided, deluded and wrong, wrong, wrong. Additionally, they can "suck it." Take that, non-Bronco fans!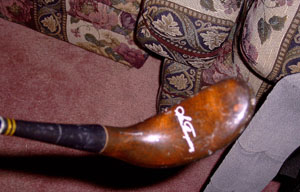 And here we see an out-of-focus picture of my (stylish) wood putter. Indeed, this putter was bestowed upon me by my dad some years back. It was actually a product of a misunderstanding. You see, some years back, dad asked me if I wanted one of his hundred (or so) putters and I said "yes, I want the wooden one," meaning a beat up old wooden
shafted
putter that he had, not thinking that he'd ever part with the one you see above. To my great surprise, without hesitation, he handed me the putter you see here, replete with lamb's wool head cover. Feeling as if I had gotten away with murder, I said nothing and kept it. As a side note, I finally do have the raggedy-ass putter I
originally
asked for as well. It rots away in my garage...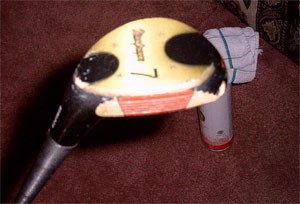 The kids today, they don't know how good they have it. Hell, nowadays, anyone can just head down to the local Wal*Mart and pick up all manner of golf clubs to fill your bag, including the newest trend, the
hybrid iron
. Gone are the days when you had to hew your own clubs out of a tree and then...Ok, fine, I never had to do any of that, but...Well, you also won't find a damn hybrid iron in
my
bag, no siree. You will, though, find this here beat-to-shit seven wood (made out of actual, no-kiddin' wood) in it's stead. So there.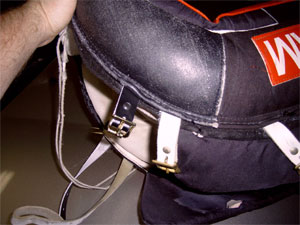 Moving on from the monotonous tour of my golf bag to something equally as non-riveting, here's the bottom end of one of my goalie pads...You can see that one of these things is, indeed, not like the other. The black strap there was one which I recently (like yesterday) had to replace because, prior to my most recent game, the strap which preceded it in the same location broke. Broke in two in my hand, no less. Not a good time for something such as that to happen. I imagine, however, that it's situations like that which prompted the manufacturer of the pad to have two bottom straps in lieu of just one...Anyway, moving along...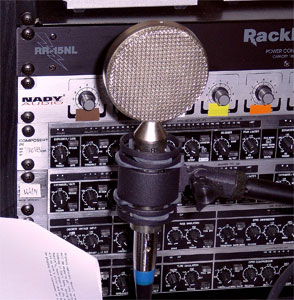 I can't remember if I introduced you kids to my ribbon microphone or not...Anyhow, here it is, my Nady RSM-4 ribbon microphone. This is the mic which I alone get to speak into during the recordings of our podcasts...This is primarily due to the fact that it's the most expensive mic that I own. Ain't it pretty?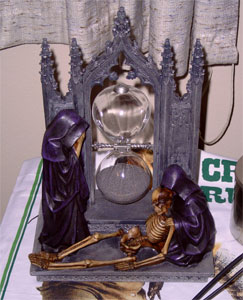 And not far from the ribbon mic, it's the death clock...er...sands of death...er...Well, this was my birthday present from
Collin
and my
sister
, their goal seemingly to fill my home with the macabre one gift at a time. I'm appreciative, of course, because this thing is pretty cool...Back when we were kids my friend
Sean
lived with his stepdad who, when Sean was allowed to have a friend over, would set the oven timer for, say, an hour. When that timer went *DING*, it was time for whichever guest was there to be gone. I joked that the death sand thing could be my personal version of the "guest timer," whenever someone annoying came over, I told Collin, I could set it and, when the sands ran out, their time would be quite literally up. Collin thought for a second or two and came back with "You better not touch that thing when I come over." Of course, just to be a dick, I turn the glass every time he visits now...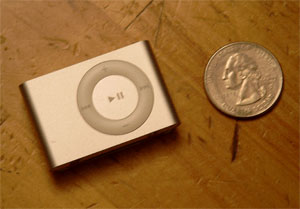 And we end today's Phrickin' Photo display with a picture of my tiny new 2nd generation iPod shuffle. Ain't that just the cutest little thing you've ever seen!? And so small, look at it in relation to that quarter...I like things like this, small but capable. I mean really, that fucking quarter might
MIGHT
give me a few seconds of enjoyment via a gumball or a handful of candy or
maybe
a video game...The iPod, on the other hand, can hold nearly a gigabyte worth of musical data which can fill my pathetic life with joy for...Well, for a significant period of time...Take that, George Washington! It's no wonder that our first president is glaring at the 'pod with such disdain...
So that's that...As always, thanks for stopping by...You kids have a fine Weekend now...
Labels: Phrickin' Photoblogs, sports