Friday, January 19, 2007
Phrickin' Photoblog Phriday - Go Broncos!..
Hey! Look! It's Friday! Woo hoo! And also LOOK! I'm posting a Phriday Photoblog! Yes sir, I may be way behind in sharing the pictures but...Well...Ok, I'm way behind...So far behind, as a matter of fact, that you and I are gonna take a trip in the (not-so) wayback machine to December 24, 2006...My wife and I went to Mile High Stadium (screw you, Invesco) to see the Broncos beat the Bengals on that day. It also happened to be a very cold and snowy day (just a few days after the (first) large blizzard which crippled the area and stranded holiday travelers. Anyway, that's enough buildup...ON WITH THE PICTURES!
if you click on them, they become excited and will grow to unimaginable sizes (considering, of course, that your imagination stops somewhere around 600 to 800 pixels in width)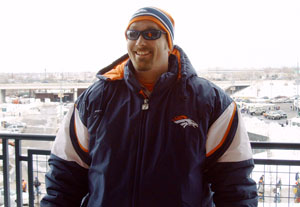 Here's a shot of me prior to the game. As you can see, I'm decked out in a pretty thick warm coat (which I borrowed from my mom). You can pretty much see some of the giant snow piles in the parking lots behind me there...You can also see the reflection of my wife taking the picture if you look at my left eye...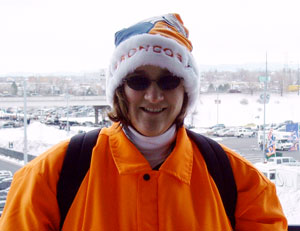 And here's the wife in the same location as I was in the previous picture. Notice that while I got the cool Bronco coat and the free promotion beanie hat, she ended up with the cool bronco Santa hat (but the generic hunting coat). I hear tell that the hunting coat is pretty damn warm, however...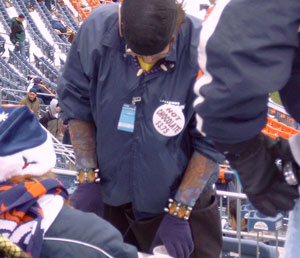 Here's a good indication of how cold it was that day: the hot chocolate guy outsold the beer guy buy a 3 to 1 margin and at $3.75 per, that's what...Like a BILLION percent markup? And since you're wondering, no...Those aren't tattoos, it's a thermal top printed to LOOK LIKE tattoos. So no, the hot chocolate guy wasn't amazingly tough, he just wanted you to think that he was. In fact, I'm pretty sure I remember seeing him collapse and begin to cry from the sheer bitterness of the cold later in the game, his tears freezing as they rolled off of his face and shattering as they hit the ground...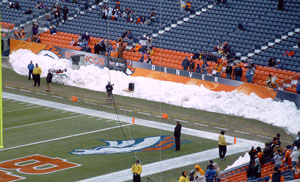 Here's a peek at some of the snow which was piled up all around the stadium. As they instructed the public address announcer to inform us, they did their best to remove as much snow from the stadium as possible, but there was just TOO GODDAMN MUCH. As you can see, that pile is around 6 feet in height and it wasn't alone...There were tons of show left in the stadium that day...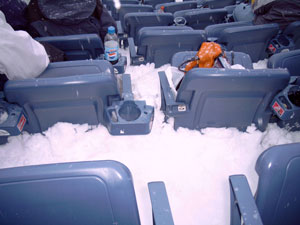 See what I mean? This is a picture of the row of seats in front of us and is representative of the seats that we were sitting in that day...Just so's you know, when snow is piled up around your seat, your ass gets very very VERY cold...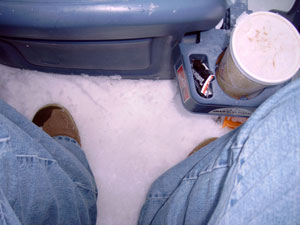 And here's a shot of my feet sitting on top of the snow. Normally, My feet wouldn't be anywhere near the level of the cupholder...And yes, I bought the hot chocolate (but I got mine with whipped cream at no extra charge - stickin' it to the man). Just so you know, when it's hovering around zero degrees fahrenheit, Tootsie Rolls harden into a rock-like mass which make them pretty hard to enjoy...But anyway...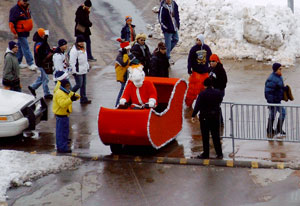 Here comes Miles Claus, here comes Miles Claus, right down Denver Bronco Way! That there is Miles, the mascot of the Broncos, all decked out as if he were Santa, entering the stadium so that he can spread joy to all the Bronco fans (and, of course, abject sorrow to the Bengal fans)...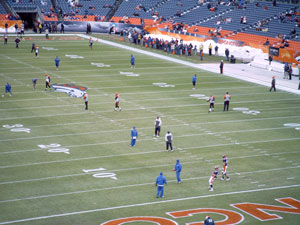 Here's a shot of the pre-game "warmup" which, in this case, I find humorous since it was like...1°. If they wanted to get warm, they should've stayed in the damn locker room.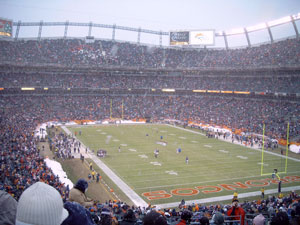 Not long after the pre-game "warmups," It began to snow. It snowed until the end of the game.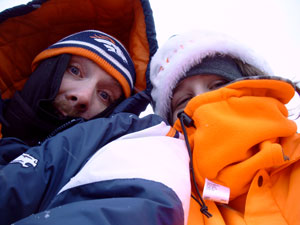 And we end today's photographic exhibition with a shot from later in the game of both of us bundled up like fluffy little eskimos. My feet weren't nearly as lucky as my head...We had some of those hand/foot warmers but they conked out after an hour or so and after the game, I couldn't even FEEL my toes. Luckily, I sustained no frostbite or other traumatic injury and am all ready for NEXT Christmas Eve...
So there's that...As always, thanks for stopping by - you kids have a great weekend now...
Labels: Phrickin' Photoblogs, sports