Friday, January 26, 2007
Phrickin' Photoblog Phriday - Abby's First Christmas!..
Indeed, Aesop (you know, the fable fabricator of ye olden tymes) said something like "promises were made to be broken." Surely he said
something
like that in one of his many frickin' fables. Anyhow, it's true, really...I mean, I promised at least
one poor soul
that I'd have the video of my mother having a hell of a time figuring out
Wii Sports
up for your collective viewing pleasure today...
As I'm sure you're all astute enough to discern by now, that's not going to be the case.
"WHY!? Why do you do these things!?" you may ask, with an indignant tone which I believe I'm none too fond of...Well, the reason is simple: the video needs more editing. Additionally, I didn't have time to do said editing before today. AS SUCH: I
promise
to at least
that one person
who wants to see the video that I'll do the requisite editing this weekend and have it up for viewing in about a week. In the mean time, in place of a showcase depicting a 57 year old retail manager playing video game golf, I give you "Abby the Cat's first Christmas" (well, her first as a resident in my parent's household, at least)...
you click, pictures go *blooey* and expand.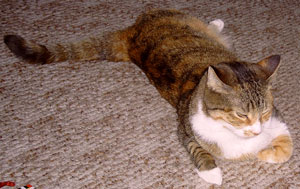 You all know Abby, she's the cat that my parents acquired a while back. I've displayed pictures of her before (and even a video) but these pictures are just a wee bit more special. See, Abby was given a large stash of cat toys for Christmas back in December and the following photos chronicle that event. All that the above photo serves as is proof that she lays funny. Look at how her goofy back leg sticks out...I think she's self-conscious about it...Anyhow, moving on...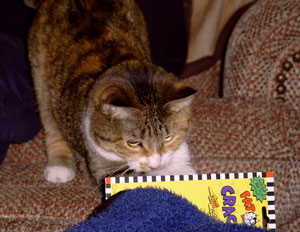 Hey! A toy! Abby has found the first of many toys in her Christmas bag, the fat cat Crackler, a catnip filled chipmunk toy that will eventually cause her to spiral into a drug-induced state of psychosis (which we all enjoyed immensely, by the by)...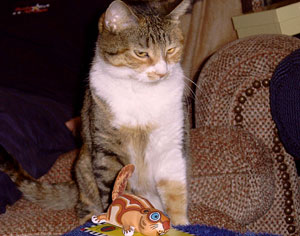 Here's a better look at "the Crackler" with Abby lording over said toy. She may be playing it cool in THIS picture, but believe me, she could barely contain herself after just a few hits of the catnip. Like night and day, kids...Night and day...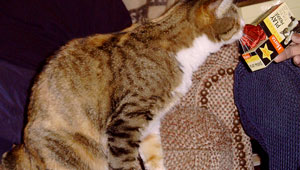 And ANOTHER toy! This one is the Hartz Play Mouse (also catnip infused). Ironically, I think this ended up being her least favorite of the bunch. As an aside, take a look at the nazi-cat on the side of the box.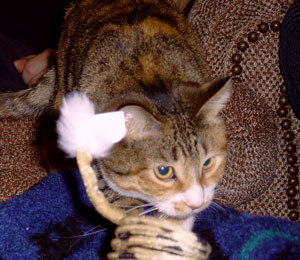 Here Abby is inspecting a third toy, a springy panther-thing...I'm not exactly sure why an ordinary housecat would want to beat up on a malformed jungle predator, but...Well, actually, I don't know that Abby plays much with
this
toy either...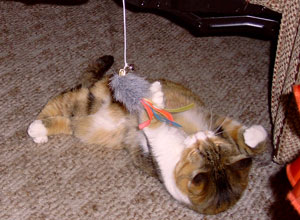 But THIS toy, This toy is her absolute favorite. I don't even think it has any catnip in it...It does, however, have a furry thing with some streamers and a bell attached to a "fishin' pole" apparatus. Abby literally forces this toy on everyone she sees, begging them to make it move so she can attack (even though she lacks front claws).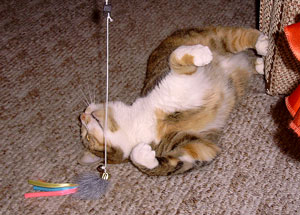 Here she's using the recliner and getting some leverage so as to better destroy her favorite plaything...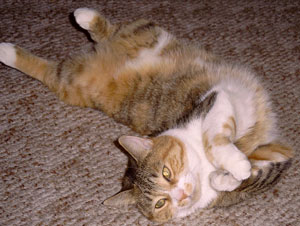 And this is where endless playtime and copious amounts of catnip gets you: unable to roll over without assistance. Observe how Abby brings her front paws together as if to say "please help me! Turn me over, I'm high on controlled substances."
So that's that...As always, thanks for stopping by, you kids have a fine weekend now...
Labels: Cat Pictures, Phrickin' Photoblogs