Monday, June 14, 2004
I Get Around (Round...Weeeeeheeeeoooo)...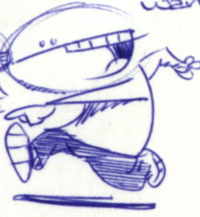 Diana
(Masooma) recently posted, on her blog, a map of the states which she has visited. "What a great idea!" I thought. I instantly wanted to offer one of my own...Of course, in the tradition of offering completely original content, I figured I'd have to take this idea one step further. I have included a number of different categories on my map, which have been color coded. The states (and also provinces of Canada) have been labeled accordingly. Obviously, some states fit more than one category and have been multi-labeled to reflect such things. This is really more for my amusement and recollection than anything else, but I'd encourage everyone to think about something like this. Mostly, this map reminds me of places I haven't yet been. It does remind me of some of the great trips I've taken in the past, though...
click on the map to see it larger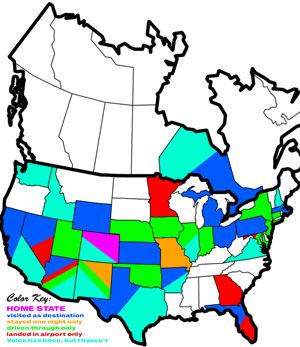 I've never been to Alaska or Hawaii, so I didn't include them. The "Where my voice has been" category has to do with commercials (radio and tv) that I have recorded over the years which are played in various markets. It's an odd thought knowing that my voice gets around more than I do. Maybe that just means I should travel more...Who knows...
Labels: lame stories, me roots