Wednesday, November 14, 2007
Awesomecast Episode 73 - Hello, Garage Band...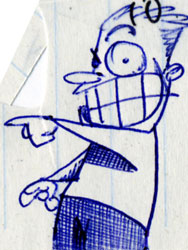 Hey, look! It's Wednesday-which-means-awesomecast again and it gives me some semblance of joy to say that I have a brand new full episode of the aforementioned thing to share with you kids. Indeed, last week I was completely blindsided by Audacity, the program that I have used up until now to record these shows, when it crapped out during the recording. This week, however, I went with another cheap-as-free software in Garage Band and I have to say, even though the editing phase was slightly tedious, the recording couldn't have gone any better. Hell, check it out for yourself when you clicky to listen...

Labels: audio, awesomecasts, podcasts