Monday, October 15, 2007
BELIEVE!..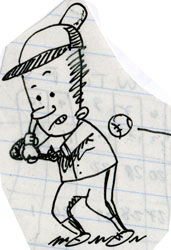 So back in 1993 when the Colorado Rockies were the new team in town, I was living in Northglenn (a suburb of Denver), attending a tech school in Thornton (yet another suburb of Denver) and working at a warehouse in Denver (not even a suburb - it was Denver). The entire metropolitan area - nay, the entire state - had caught baseball fever real bad. Denver has always been a great sports town with fervent and loyal fans. Even the lowly nuggets, despite their perennial poor play, have always drawn well and of course the Broncos were and still are king. There's always more love to go around, though. Two years prior to the NHL taking up residence in the Mile High City, it was the MLB who realized that they had made a fine move placing a National League expansion franchise at 5,280 feet as the Rockies set to the task of shattering existing attendance records and even making the playoffs in only their 3rd year of existence. I admit, I was as much of a Rockies fan as I could be that first year when I was living in Denver. What I mean by that is, since there was no major league baseball team in Colorado while I was growing up and since Chicago Cubs games on WGN were easy to come by during the summer months, I had developed into a fervent fan of the Cubbies by that time. In fact, since this was well before the advent of interleague play, I was extremely excited that the Rockies were a National League franchise as that meant that I would have opportunities to see my beloved Cubs play, which I did several times...
fast-forward to 2006. I'd lost interest in the Cubs to a point and now consider myself more of a complete Colorado Rockies fan. I couldn't hold a candle when it came to loyalty, however, if compared to my grandfather Harold. Despite the fact that he could barely see or even hear, he never missed a televised game and he knew every player on the roster, their strengths, their weaknesses, the records of the pitchers, etc. If the Rockies were playing, you'd find him sitting literally an inch away from the TV screen, taking in all of the action and reprimanding players for their poor play, especially the pitchers who had traditionally been the weakest link in the Rockies' chain. In March of last year, sadly, the Rockies lost their biggest fan when my grandpa passed away. I'm more than a little sad that he didn't stick around to see his team when they finally started playing their best baseball here a couple of months ago. Under pressure, in the tightest of races, the Rocks strung together an unbelievable number of wins and made the postseason as the NL wildcard on the strength of a dramatic marathon one-game playoff win against the San Diego Padres and then immediately swept the Philadelphia Phillies to make it to the NLCS. As I'm typing this wee entry, the Rockies have just completed a stunning 4-game sweep of the NL West champion Arizona Diamondbacks. Kids, the Colorado Rockies - yes, the ROCKIES - are going to the World Series...
Somewhere, my grandfather is as happy as he can be...Right here, I'm as happy as I can be...
GO ROCKIES! BELIEVE!
Labels: sports, tales of triumph