Tuesday, March 30, 2004
Fun With Being Stalked (via email)
Some time back, long before I started this blog thingy,
Collin
pointed me toward
665,
which was maintained by a pretty funny individual. Among other things, this guy would perpetrate
chat pranks
on folks via instant message and in chat rooms and then post the results. Always trying my best to skew results, I set up a fake (and feminine) AOL screenname and laid in wait for Mr. 665 online, basically to see if I could out-chat-prank the master-chat-pranker.
Overall, it didn't work. The guy actually came to enjoy chatting with my alter ego. While I do have chat logs filled with witty banter, it's nothing I can really make sense of to post. The screenname remains active to this day and, because I'm thorough, I set up a profile for the screenname which I never deleted. The account receives a lot of the same "yo, buy viagra" or "Enlarge your member" emails...Sometimes, though, an actual person will stumble across the profile and try and contact "darkbookgrrl..." What follows are emails that were exchanged between grrl and one such AOLer...I'm thinking he's pretty damn lonely and pretty damn desperate. I'm hoping that I'll never have to find out firsthand...
Sunday, February 22, 2004...First Contact...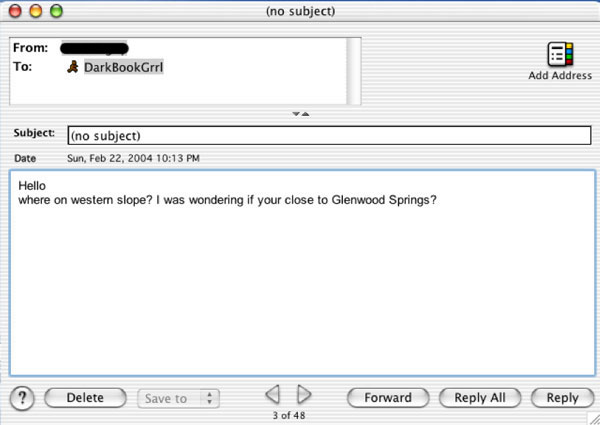 Saturday, March 6, 2004...My pointed reply...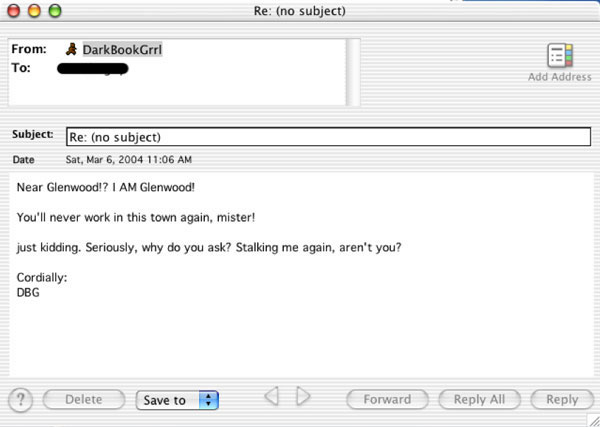 Saturday, March 6, 2004...He's Quick To Respond...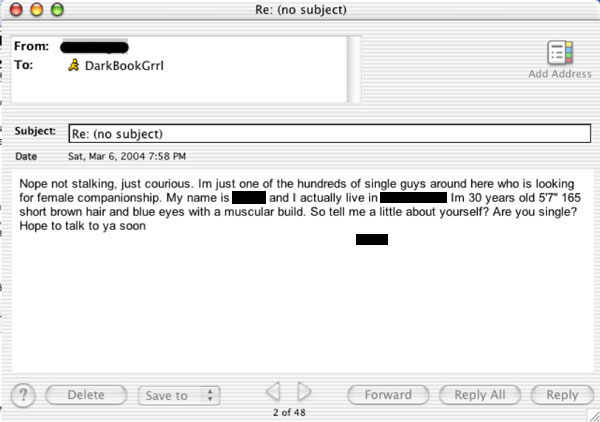 Monday, March 8, 2004...Let's Talk About "Me"...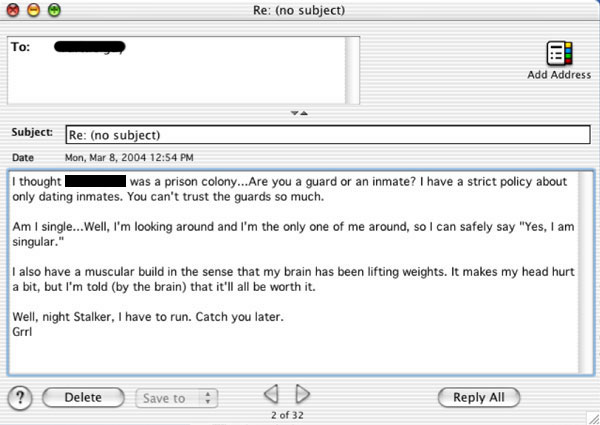 Wednesday, March 10, 2004...He IS desperate...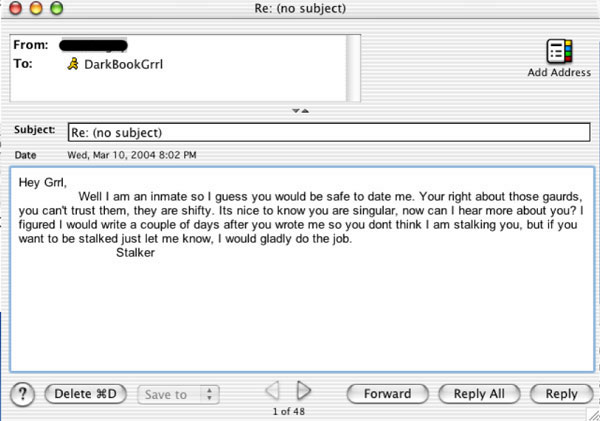 Monday, March 15, 2004...I Offer More Lies...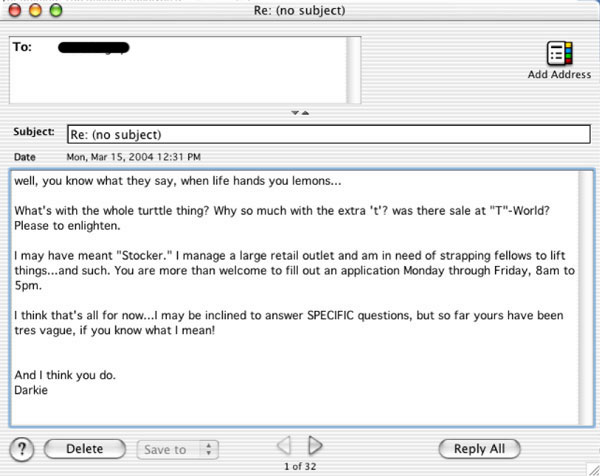 Tuesday, March 16, 2004...OK, back off, Sparky...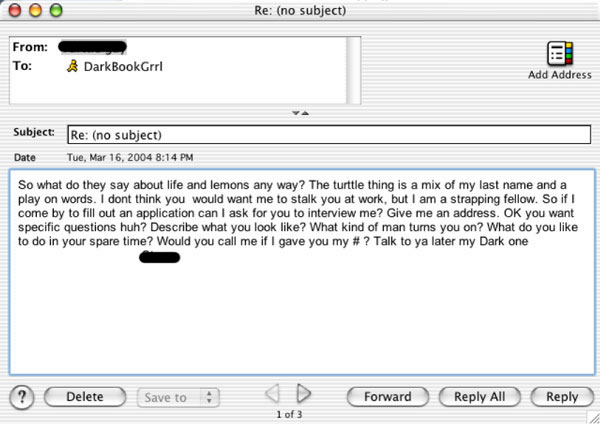 Thursday, March 18, 2004...Ask and ye shall receive...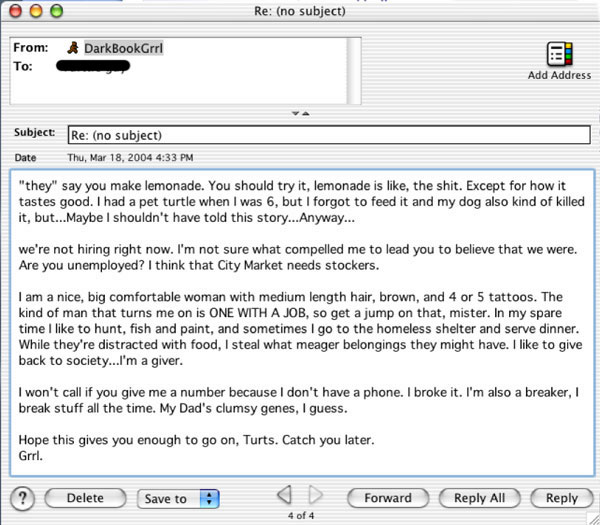 I figured this was good enough to scare him off. A few days passed and I assumed he just didn't want to hook up with a "big, comfortable woman." Unfortunately, like clockwork, he eventually responds...
Saturday, March 27, 2004...Note his size concerns...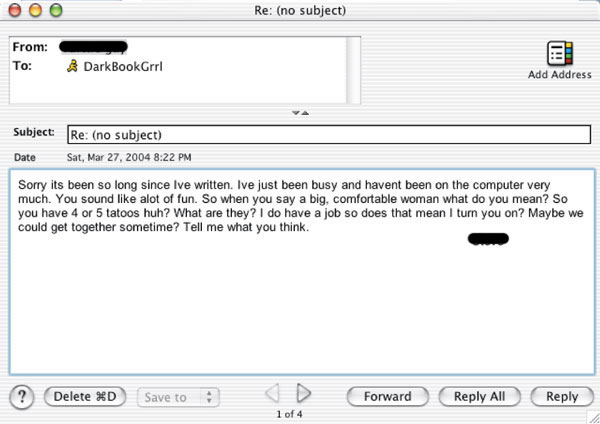 Monday, March 29, 2004...I just keep getting weirder and weirder...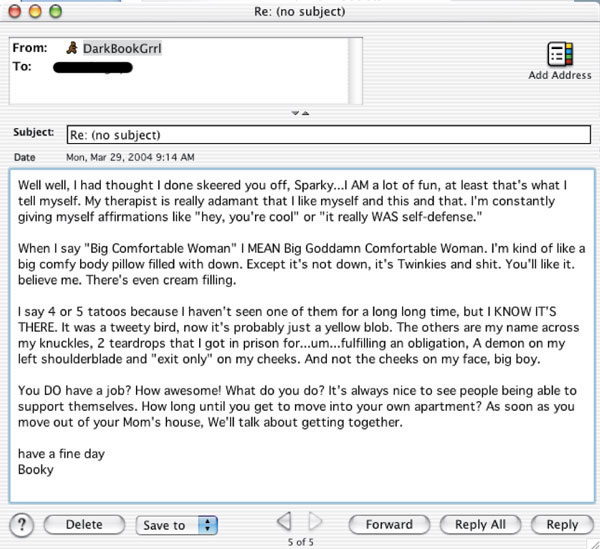 I'm just hoping that my last missive flips that switch in his brain that says "run while you can." If not, I guess I'll just keep everyone updated on the status. Overall, this has been slightly more fun than disturbing...Let's hope it doesn't cross that line.
Labels: chat pranks